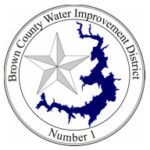 Brownwood News – The Board of Directors of the Brown County Water Improvement District will hold their monthly meeting on Tuesday, January 12 at 4:00 p.m.  On the agenda is the awarding of new leases on McCartney Island.
Last October the Water District announced that 24 new leases would be made available in January.  The leases are for 50-ft. of waterfront property.  No structure can be built on the land, but the installation of a dock is allowed.  Electricity is available, and the annual cost of the lease is $375.
More than 100 lease applications have been received by the Water District, so 24 names will be "drawn out of a hat" at Tuesday's meeting.  The Water District will continue to accept applications for the leases right up to the start of the Board meeting at 4:00 p.m. on Tuesday.  Applications must be made in person at the Water District office at 501 East Baker Street in Brownwood.
Also on the agenda for Tuesday's Board meeting:
***  A request from Mr. Melvin Atkinson with the Texas 4H Center for a letter of support for a grant for walking trails at the Lake Brownwood 4H Center.
***  Consider and take necessary action regarding budget amendments for radio upgrades and a fire pump for the District's Lake Patrol Department in an amount not to exceed $52,000.00.
***  Hear a report from Lake Patrol Chief Mark Davis on current activities in his department.