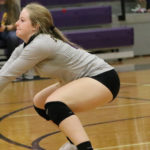 EARLY – Vying for their second straight District 8-3A volleyball victory, the Early Lady Horns instead were upended at home in three sets, 25-20, 25-16, 25-14 by the Brock Lady Eagles.
"The score does not reflect the way we played tonight," said Early head coach Natalie Whitewood. "Hands down it was the best game we have ever played in four years. We competed today and I have a feeling this is the turn for our program. They saw what competition is from a sound program and absolutely didn't back down. I'm proud of them and even prouder to be a part of this team."
Leading the way for the Early offense was Taylor Summers with nine kills, Carrigan Norris with four, Gwen Phillips with two and Grecia Yebra, Alexa Portillo and Savannah Holt with one kill each.
Bethany Tomlinson dished out 10 assists, Summers added six, and Holt chipped in one.
Norris and Summers both served a pair of aces.
Defensively, Phillips chalked up nine blocks, Holt logged eight, Portillo collected three, Summers added a pair and Norris tallied one.
Grace LaRue recorded five digs followed by Portillo and Tomlinson with three each, Norris and Maddie Waldorf with two each, and Yebra, Holt and Phillips with one apiece.
Early (6-5, 1-2) ventures to state-ranked Peaster at noon Saturday.