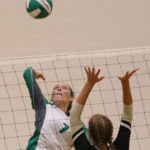 COMANCHE – The Bangs Lady Dragons chalked up their first District 8-3A volleyball victory of the season Tuesday night, taking down the Comanche Maidens in straight sets.
"The girls struggled starting off and we had an injury tonight, but we still played tough and learned to adjust," said Lady Dragons second-year head coach Cheyanne Lovelady.
Jacee Miller sparked Bangs with five kills and four aces; Maggie Morales chipped in eight kills, three aces, and three blocks; Hadley King distributed 11 assists with 10 digs and three aces; Brooklyn Mullins recorded six kills and three blocks; Halle Lance tallied seven kills and eight assists; Wipada Pakeaw netted four kills; Cloie Montague added three kills; Skylar Hutchins logged 27 digs; and Madi Martin finished with 11 digs.
Bangs (4-6, 1-2) will attempt to even its District 8-3A record at noon Saturday at Dublin.