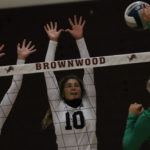 SAN ANGELO – The skid for the Brownwood Lady Lions reached four games Tuesday night following losses to Class 6A San Angelo Central and 5A Abilene Wylie in a tri-match.
Brownwood fell to Central, 25-16, 25-23, 25-15 and to Wylie, 25-11, 19-25, 25-12, 25-13 in its first matches against opponents from classifications larger than 4A.
"We played two tough games," said Lady Lions second-year head coach Allison Smith. "We made mental errors and didn't show up the way we can. We had a lot of long rallies that just didn't fall our way and we didn't finish. I'm proud of my team and I have all the faith we will get back to winning."
Against Central, Katelyn Windham registered six kills to pace the Brownwood offense followed by five from Jaylen Savage, three from Kylie Morris, and two each from Olivia Fowler, Tessa Goodwin and Ashlyn Storm.
Goodwin contributed 15 assists and one ace while Fowler served three aces and Caitlyn Moody chipped in two.
Defensively, Moody racked up 16 digs trailed by six each from Fowler and Goodwin, five from Gracie Boswell, and one each by Morris, Savage, Storm and Becca Church.
At the net, Savage and Windham each logged two blocks while Goodwin and Storm finished with one apiece.
Against Wylie, Fowler and Windham posted seven kills apiece followed by two each from Morris, Savage, Goodwin and Storm.
Goodwin's 14 assists were a team-best trailed by Moody with one.
Morris served three aces while two came from Windham.
On the defensive end, Moody collected 14 digs trailed by Fowler with 11, Boswell with eight, Goodwin with five, Church and Morris with four each, and Windham with three.
The lone block belonged to Savage.
The Lady Lions (6-5) return to the floor at 4:30 p.m. Friday at Class 4A No. 5 Graham.