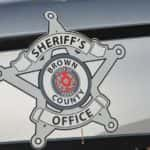 On Tuesday, Sept. 8, Deputy Andre Smoot conducted a traffic stop on Owings and the vehicle pulled into a parking lot at the corner of 3rd Street and Ave G.
On Thursday, Sept. 10 at approximately 9:19 a.m., Deputy Scotty Burke was dispatched to the County Jail. This was in reference to a criminal mischief report and investigation. On Thursday, Sept. 10, Lt. Pete Bastardo was advised Brownwood Animal Control had captured a goat and had brought it to the Sheriff's Office holding pens. A report was taken.
On Friday, Sept. 11, Deputy Jimmy Cornelius was assigned a call for service at the Law Enforcement Center where an individual reported the theft of a firearm. The firearm is described as a Remington Wingmaster 12 gauge pump shotgun model 870. The shotgun was last seen approximately 10 months ago. Internet sources values the shotgun at $850.
On Friday, Sept. 11 at about 4:51 p.m. Deputy Simpson responded to CR 136. This was in regards to illegal dumping. Deputy Simpson located a small white chest freezer on the side of the road. A report was made.
On Saturday, Sept. 12, Deputy Hammonds was dispatched to CR 234. This was in regards to an animal complaint. A report was made.
On Saturday, Sept 12., Deputy Smoot, responded to a theft of trailer call where he spoke with the victim, who works in another county currently. The victim was going to attempt to come back and provide specific details about items stolen. Initial report completed.