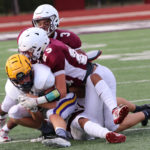 With only four offensive and three defensive starters back from last season's 11-2 regional semifinals squad, there were plenty of position battles ongoing during Brownwood Lions preseason practice. During Monday's KOXE Coach's Show, Sammy Burnett revealed a portion of the starting lineup for Friday night's season opener at No. 3 Lampasas.
In the three-man quarterback battle between Blaize Espinoza, Baylor Tidwell and Chance Jones, Espinoza will get the starting nod in the season opener.
"Each one of them brings their certain skills and traits to the position," Burnett said. "For us it's an evaluation of what we need that week, what skill set we need to start that game. Even though Blaize wasn't with us at the scrimmage, from our evaluation of him and his knowledge of the offense and what we did last year and his previous experience, we're going to start him on Friday night at Lampasas."
Espinoza missed Thursday's scrimmage against Godley due to allergy issues, according to Burnett.
The Lions are replacing all four members of last year's starting linebacker corps, and the two inside and two outside linebackers for the season opener have been decided.
"The Anderson brothers, Konlyn and Dryden, have stepped up and will start at inside linebacker for us," Burnett said. "With Blaize starting at quarterback we felt it was a necessity to not have him go both ways to start. Then Ethan Pesina, who plays center for us, we felt it would be important for him to stay on the offensive side of the ball right now. At the outside linebackers, Cade Jetton and Hunter Day will start.
"I feel a lot better after watching the film. Every day that goes by those younger kids get a great experience of the speed of the game and the physicality of the game."
Others who could rotate in at outside linebacker include Jones, Reece Bolton and Noah Barron.
On the injury front, right tackle Jared Northcutt missed most of the Godley scrimmage after suffering an ankle injury early. Burnett provided a health update Monday.
"He has a grade one ankle sprain and we fully anticipate him to start on Friday night," Burnett said of Northcutt. "We chose to keep him out of the rest of the scrimmage just for precautionary reasons. We also have Logan Gillem out, who is our right guard, until Aug. 31. He was part of the group that was at the camp, he tested negative for COVID but still has to sit out for precautionary reasons. We're either going to start Slayde Espinoza or Alex Reyna at right guard."
An in-depth preview of the Brownwood-Lampasas game will be published on BrownwoodNews.com Thursday.
****
Online ticket sales for Brownwood at Lampasas game
Burnett also announced how ticket sales will work for Friday's season opener at Lampasas.
Approximately 500 tickets have been made available for Brownwood fans, and can be purchased at the website LISDTX.org beginning at 8 a.m. Tuesday. Click the Athletics tab, then Badger Ticket Sales, then select Get Tickets for the Brownwood-Lampasas game. A maximum of two tickets can be purchased, and the tickets can either be printed out and presented on your phone at the gate.