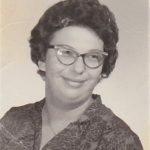 Linda Craker, age 70, of Abilene, and formerly of Coleman, died Tuesday, August 11, 2020 at Hendrick Hospice Care in Abilene.
A graveside funeral service will be held at 11:00 a.m. Saturday, August 15, at the Brown Ranch Cemetery Pavilion, near Fisk, Coleman County, Texas.
Interment will follow in the Brown Ranch Cemetery.
Services are entrusted to Stevens Funeral Home in Coleman, 400 W. Pecan Street, in Coleman.
She was born Linda Marleen Brooker on April 10, 1950 in Coleman to William Henry "Buster" Brooker and Ethel Maureen Ballard Brooker.  Linda grew up in Coleman where she attended school.  She married Jerry Wayne Craker, Sr. on September 2, 1972 in Dallas.  Linda enjoyed oil painting and taking care of her family.  She was a Baptist and a homemaker. Linda lived in Coleman until moving to Abilene in 2011 to be closer to family.
Linda is preceded in death by her parents; two sisters, Vivian Brooker and Doris Parker; three brothers, Henry Brooker, Allen Brooker, and Coy Brooker; one granddaughter, Nicole Estrada; and one great-granddaughter, Ashley Craker.
She is survived by her children, Michelle Estrada and husband Bobby of Abilene, Wanda Craker of Brownwood, Wayne Craker and wife Pam of Abilene, Marshall Craker and wife Socorro of Brownwood, Jody Craker and wife Shannon of Pueblo, Colorado, Christopher Craker of Abilene, and Jonathan Craker of San Antonio; two sisters, Wanda Rohacek and husband Jim of Ballinger, and Pamela Thate and husband Kenneth of Burkett; nine grandchildren; and five great-grandchildren.
Remembrances, condolences, and messages of comfort can be expressed at www.livingmemorials.com.  Stevens Funeral Home is honored to serve the Craker family.