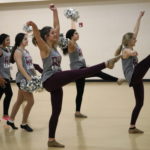 While the 2020 Brownwood Lionettes are preparing for the upcoming football season, 14-year director Stacee Hetzel is taking a step back in time as she attempts to gather history on the high school drill team.
"One of the moms of a football player called, they were working on the football program, and they wanted to introduce the history of some different things at Brownwood High School and the Lionettes came up," Hetzel said. "I don't know long we've had a drill team, but as long as I can think of. I threw something out on Facebook and I immediately got tons of answers including people I had no idea had been directors. I started putting all the pieces together and Brownwood High School is probably one of the high schools in Texas that had one of the first drill teams, other than the Kilgore Rangerettes which is the official first drill team."
Thus far, Hetzel has been able to trace the origins of the Lionettes back to the 1959-60 school year.
"The first year that I can find is 1959-60, but I have not rummaged through all the yearbooks," Hetzel said. "I have a feeling if I go look through all those yearbooks it's probably going to be before then. I've got two different names, Shirley Crawford and Elna Clark, as some of the first ones to come in and start it. How they did it, what happened, I don't know but I'd like to know."
In her research, Hetzel discovered some drill teams with upwards of 60, 70 or 80 participants.
"I believe some of that had to do with there not being as many sports for girls at that time, so this was their sport," Hetzel said.
Hetzel herself was a Lionette and part of a milestone in the program's history.
"I graduated from Brownwood High School and when I was in drill team freshmen weren't allowed on the team," Hetzel said. "We were the first group of sophomores to be allowed on and that was 1987-88. Then sometime between me graduating and me coming back and taking over they had allowed freshmen in. Somewhere in the early '90s they said the moms got together and asked why there was never freshmen on the team. I really don't know why there were never freshmen on the team, but there are now."
When Hetzel became director, she re-established the traditional hats and boots uniform the Lionettes wear today.
"I'd like to see how the uniforms have evolved," Hetzel said. "When I was in it the uniforms had gone more to a dance team, not a drill team. Whenever I took it over, when I went in for the interview I said I wanted to go back to the boots and hats, traditional uniforms."
Hetzel has even learned a little more about herself through the project.
"There's been so many directors through the years, tons, but I've been the longest. I thought this was year 15 for me until I started all this and then found out it was only year 14," Hetzel said with a laugh.
Anyone who would like to contribute or provide information for the project is encouraged to contact Stacee Hetzel at 325-642-7379 or stacee.hetzel@brownwoodisd.org.
"I've had lots of people send old, old pictures, even programs from their banquets," Hetzel said.
She said the biggest gaps right now are years 1963-66 as well as 1968-70.
"I would love to piece together who the director was, approximately how many were in it and I would love to see what uniforms look like all the way through," Hetzel said. "Also, if anybody knows the official person who started it, we would really love it."