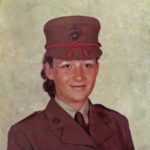 Brenda Ann Jourdan Christian, age 60, of Coleman, died Tuesday, August 11, 2020 at Care Inc in Early.
The family will host a visitation from 1:00 p.m. to 3:00 p.m. Sunday, August 16, 2020 at Stevens Funeral Home Chapel.
A graveside funeral service will be held at 11:00 a.m. Monday, August 17, 2020 at the Texas State Veterans Cemetery at Abilene, 7457 West Lake Road, Abilene, Texas 79601.
Services are entrusted to Stevens Funeral Home, 400 W. Pecan Street, in Coleman.
Brenda was born October 2, 1959 in Coleman to Emmitt Jourdan and Barbara Ann Gregory Jourdan Smith.  She grew up in Coleman where she attended school.  Brenda joined the United States Marine Corps on February 15, 1977 in Amarillo.  After being discharged from the Marine Corps, Brenda attended school and became a certified nurse aide.  She worked in different areas of the healthcare field but loved working in the home health setting.  Brenda took pride in taking care of her patients and cared for them as if they were her own.  She married John Ray Christian in 1994 in Coleman.  Brenda enjoyed making crafts, reading, and loved her cats.  She was a life-long resident of Coleman and a member of Fellowship Baptist Church in Coleman.  Brenda was a loving wife, mother, grandmother, and sister.  She will be deeply missed.
Brenda is joined in heaven by her parents, Emmitt Jourdan and Barbara Jourdan Smith.
She is survived by her husband, John Ray Christian of Coleman; her children, Dewayne Jourdan and wife Jamie of Plano, Charles Hipkins and wife Amanda of Coleman, and Coleton Christian and fiancée Ashley of Kermit; one sister, Barbara Rorabaw of Burkburnett; two brothers, Ronnie Jourdan of Andrews and Rodney Jourdan of Andrews; and numerous grandchildren.
Remembrances, condolences, and messages of comfort can be expressed to the family at www.livingmemorials.com.  Stevens Funeral Home is honored to serve the Christian family.