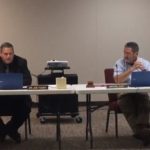 The Brownwood School Board of Trustees met Monday night and received an update on how many BISD students plan to return to class next week in person and how many intend to begin the school year receiving their education at home.
BISD Deputy Superintendent, Liesa Land, told the school board that 82.6% of students have chosen a normal classroom education.  17.4% have chosen to learn remotely.  The school district still needs to hear from parents this week who haven't made the choice as of yet.
Land said the school district will put out information this week with regards to when students, who plan to study remotely, may pick up their devices.
In other business, BISD Superintendent, Dr. Joe Young, answered several questions from board members related to the school district's back to school plan amid the Covid pandemic.
"I feel good about the plans we've set out.  Our whole goal is to have students and staff feel comfortable," Young said. (Young is shown in the photo with Board President Michael Cloy)
The BISD Return to School Plan can be found on the school district website www.brownwoodisd.org/covid19.
In other business, the school board approve posting the proposed tax rate in the local newspaper.  Dr. Young said the rate is a little over a penny less than last year.
The board set August 27 as the date for a special meeting to approve the budget and tax rate.  The meeting will be at 12:15 pm.
The board approved all items on the consent agenda which included 8% increase on property/casualty insurance and an extension of a janitorial contract with Draco's Janitorial for the 2020-2021 school year.
The board also called the school board election for November 3 for places 2, 4 and 5.  The final day to file for school board is August 17 at 4:30 pm at the school administration office.  If there is not a contested race, the election can be canceled.
The board went into Executive Session at 7:50 pm.  It was announced that no action would be taken as a result of Executive Session.  The board was scheduled to discuss the deployment, specific occasions for, or implementation of, security personnel or devices.