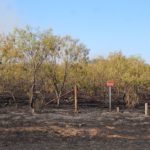 Tuesday 8:00 am Update – The Texas A&M Forest service reports the AllHandsFire near Valera in Coleman County is now 75% contained.  It has burned an estimated 600 acres.
Origianal story below:
Late Monday afternoon, a grass fire started near the community of Valera, along Highway 67, in western Coleman County.  The Texas A&M Forest Service has named the fire the All Hands Fire.  As of late Monday night, the fire had burned an estimated 300 acres and was 45% contained.  Crews are continuing to construct containment lines, while conducting burn out operations to remove unburned vegetation between the lines and active fire edge, according to the Texas A&M Forest Service Incident Management Team.  Numerous Coleman County Fire Departments responded.  The fire started just west of the community and Valera and was pushed by strong south wind toward the north, into very rugged brush and pasture land.