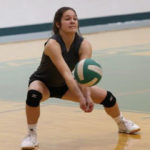 District 8-3A volleyball rivals Early and Bangs both opened their preseason practices Monday morning as life returned to a sense of normalcy for many high school student-athletes across the state.
"It's amazing. You don't realize how much you miss it until you don't have it for a while," said Early Lady Horns head coach Natalie Whitewood. "I was fired up, matter of fact I was in bed by 8 p.m. Sunday night ready to go."
The Lady Horns are coming off a 24-14 season in 2019, including a 7-3 league mark with a bi-district playoff appearance.
Whitewood reported 37 players at the first practice as Early continues the hunt for its first "gold ball."
"I think our strengths are No. 1 we'll be consistent," Whitewood said. "I don't think we have the power hitting we've had, but we'll make up for it in blocking and being quick on the court."
The Bangs Lady Dragons are beginning their second season under former Bangs and Howard Payne standout Cheyenne Lovelady. The Lady Dragons in 2019 posted a 10-21 overall record and placed fourth in the district with a 3-7 record, also reaching the playoffs.
Lovelady reported 25 at the first day of workouts.
"I had a lot less girls show up than I anticipated, but the quality of girls that showed up was at a very high playing level," Lovelady said.
The Lady Dragons' head coach stated she was most pleased with the players' retention level.
"Their fundamentals exceeded my expectations," Lovelady said. "I expected us to drop back a bit since we haven't played in so long. We didn't get to play spring ball or practice in the summer as much as I would have liked."
Early and Bangs will be in the revamped District 8-3A this year along with Brock, Comanche, Dublin, Eastland, Millsap and Peaster. The top four teams will move on to the postseason.
Both the Lady Horns and Lady Dragons will begin regular season play later this month. Check with BrownwoodNews.com for season previews on both teams in the near future.
Regarding the extra time between the first practice and first match imposed by the UIL this year, Whitewood said, "It's really good that we get more practice time because I have more of an opportunity to see them. I don't guarantee anyone anything so they have to come out and work. That gives them a whole extra week to show me what they got."
The more pressing objectives for Bangs between now and the season opener, according to Lovelady, are, "learning each other and building chemistry. There's going to be some girls that are freshmen or were JV last year that the varsity girls never played with before. All of our hitters graduated so we're going to be breaking in some new offensive players. Our defense is pretty solid, though."