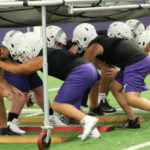 Most of Brown County's high school football programs kicked off their seasons with Monday morning workouts. Among them were the Early Longhorns, Bangs Dragons, Blanket Tigers, Brookesmith Mustangs, May Tigers and Zephyr Bulldogs.
Coaches from each respective school provided a brief summary of day one:
* Early Longhorns, Daniel Price
"We got after it this morning, it was good to have everybody out," said Daniel Price, who was holding his first practice as Longhorns head coach. "We had a decent turnout and the guys that were here worked hard and got better today."
Price reported 45 players attended the first practice, which went about as expected.
"Everything went smooth," Price said. "With all the different stipulations put on us by COVID-19 I think the kids handled it really well and worked really hard. We're trying to get back to something that looks normal and I feel like we were able to accomplish that."
Football teams can begin practicing in full pads on Friday. Between now and then, the Longhorns have a couple of goals Price wants to see accomplished.
"We have to get in football shape, that's one of the big things," Price said. "We're trying to get our offense and defense put in completely and hopefully we'll have all that done by Friday when we put the pads on."
* Bangs Dragons, Kyle Maxfield
"It was so much fun to be out there with those kids," said Kyle Maxfield, who begins his third year in Bangs. "We don't have a whole bunch of seniors but the ones that we have are great all-around kids. They've been waiting for their senior year and it's time to make it happen."
Maxfield reported 55 players at the first practice, and he was pleased with the retention level by the Dragons.
"It was a lot better than years past, which I think a lot of it had to do with being here part of the summer, so that's a good sign," Maxfield said.
The Dragons also adapted to the new safety rules imposed to due COVID-19 "fairly well," according to Maxfield.
"We got gaiters for everybody and everybody had their own water bottle," Maxfield said. "We're going to have to develop some habits with coaches wearing the masks and all that."
* May Tigers, Craig Steele
The May Tigers are beginning their 17th season under head coach Craig Steele and enter the year ranked No. 7 in Class A Division I by Dave Campbell's Texas Football magazine.
The reason for the lofty expectations, according to Steele, are the team's experience level and size.
Steele reported 29 players at Mondays initial practice.
As for the new safety guidelines imposed, Steele said, "Things went OK. The kids aren't crazy about wearing the masks, but it's not too bad."
* Zephyr Bulldogs, Jeremy Phillips
Zephyr second-year head coach Jeremy Phillips is hoping for more Bulldogs report to practice later in the week after just eight attended Monday.
"We expect it to go up to 10 or 11," Phillips said. "We are hitting a low point in numbers so we hope we are able to get a couple more out soon."
As for the players who did make the first practice, Phillips said, "We have some great kids that have worked hard this summer to improve. Our strengths will be our run game and work ethic."
Regarding any COVID-19 concerns with only a limited numbers of players thus far, Phillips said, "We're just trying to do what we can to keep everyone safe and healthy."
* Blanket Tigers, Tyler Tabor
The numbers aren't as high as in recent years for the Blanket Tigers, which isn't necessarily a bad thing, according to head coach Tyler Tabor.
"As for the new restrictions, everything went well," Tabor said. "We unfortunately have low numbers this year (15), so abiding by all the restrictions is not as difficult as a team with 100 kids out."
Blanket returns four seniors, but is still looking for a quarterback.
"I feel that our strength this year will be solid leadership out of our senior group," Tabor said. "We only have four seniors but they are unselfish. Depth will be our problem and the quarterback position will have to be filled with an inexperienced player."
* Brookesmith Mustangs, Scott Edmondson
Numbers are also a concern for Brookesmith Mustangs head coach Scott Edmondson after day one.
"We had a good start but our numbers are low," Edmondson said. "We only had eight this morning and we probably won't have more than 10 all year. One was on vacation and there's one that can't come until later. But hopefully we'll have 10 by the end of the week."
As for the Mustangs' conditioning, Edmondson was pleased with what he saw.
"We looked pretty good," Edmondson said. "We had a pretty good turnout in June during our workout session and then several of them came the last couple of weeks. Most of them are in decent shape, we don't have as much ground to make up as we normally do. And with the low numbers they're all starters, too."
The first weekend for regular season high school football action is Aug. 27-29.