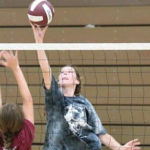 A full slate of Brownwood High School fall sports began their 2020 campaigns with preseason workouts Monday morning.
Returning to a somewhat traditional sports setting for the first time since the COVID-19 pandemic hit in mid-March, Brownwood's volleyball, tennis and cross country programs got to work around sunrise.
For the Lady Lions volleyball program, second-year head coach Allison Smith welcomed 36 players to the initial practice. Brownwood is coming off a 19-15 record in 2019 as they were runners-up in District 7-4A with a 5-3 league mark, and were bi-district finalists.
Key returnees include the district's Blocker of the Year Ashlyn Storm, as well as all-district selections Caitlyn Moody, Olivia Fowler, Jaylen Savage, Katelyn Windham, Tessa Goodwin, Kylie Morris and Kylie Wooten.
"I feel our strengths will definitely thrive from our defensive capabilities," Smith said. "We are working hard to be the most conditioned and disciplined team this year to move forward."
The UIL has imposed new safety rules for student-athletes as well as coaches due to the coronavirus, which are more of a challenge for some sports – namely volleyball, being played indoors – than others.
"The restrictions are complicated but we are working hard to make sure we follow the new guidelines," Smith said.
Also starting up Monday was the Brownwood team tennis program. The Lady Lions and Lions came one point away from capturing the District 7-4A team title last season, then had their spring campaign cut short due to COVID-19.
Brownwood tennis head coach Crystal Blazek reported 27 players at Monday's workout, including key returnees Mo Goff on the boys side and Aaliyah Uvalle on the girls side, among others.
"Honestly I think our strength would be the eagerness and readiness of getting back on the courts," Blazek said. "So the push and desire to get better is definitely already showing after day one. They got after it."
With tennis being played outside and from a relative distance, the Lady Lions and Lions have had virtually no issues with the UIL's new safety guidelines.
"We are outside so we can easily stay six feet apart," Blazek said.
The Brownwood High cross country program also held its initial workouts Monday.
Approximately 40 runners attended, the most in a season under head coach Chesney Neely, and more are anticipated.
"We had some miss today because they were working out with volleyball," Neely said. "We're looking at some new faces running for us this year so our focus is building a foundation that will continue and maintain through the longer cross country season given the COVID guidelines."
The Lady Lions will be looking to improve upon last year's third-place district finish while extending their decade-plus string of regional appearances.
Brownwood's volleyball, tennis and cross country programs will all begin their regular seasons later this month. Check with BrownwoodNews.com as season previews for each program will appear in the near future.