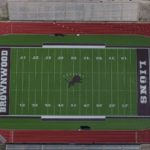 Along with Tuesday's announcement that fall sports for Class 4A and smaller schools will go on as scheduled, with a few modifications, the UIL also revealed that football stadiums can house 50 percent of their capacity and student groups will also be allowed to perform.
The Brownwood High School athletic office has received numerous calls, even prior to Tuesday's revelations, regarding football ticket sales. Waiting for guidance from the UIL on when the sports season will begin, the school district is now working to formulate an attendance plan for Gordon Wood Stadium.
"We had a meeting yesterday with Mr. Lambert, Mrs. Smith, Mr. Gill, Lisa Jaso and I and we just sat for about an hour and tried to figure out how to do it and what we can do," Lions athletic director and head football coach Sammy Burnett said Wednesday morning. "We're still waiting to hear a little bit more, it's vague what the UIL has put out. They're saying 50 percent capacity, but what is capacity? If you're talking about the stands and having 50 percent capacity in the stands, my thought was let's put some bleachers on the track. We can put the band and drill team on the track, or if you want put students down there. I'm just throwing things out there to where it allows more fans in the stands."
Burnett spoke about the dilemmas facing Brownwood ISD at the moment:
"Who gets the tickets and how is it fair," Burnett said. "You have people in our community that have been ticket holders for 47 years, then you have a parent who has a kid playing on the varsity for the first time and they want to go to those games, so how do you do that?
"Are we going to have season tickets or will it be general admission?
"Another question that arises is are they going to allow the home team to decide home many tickets the visitors get?"
Burnett stated more meetings will be held in the near future in an attempt to determine a final plan.
"There's a lot of things up in the air and we don't really know what our plan is yet," Burnett said. "We do have a meeting coming up with Dr. Young and we're going to discuss some of those things and try and get caught up and see what direction we can go and see if we can find a solution. But as of now we're still needing some answers from the UIL and how they're going to allow us to put people in the stands. As soon as we find that out we'll get tickets to everybody."
Burnett also offered his input on what he would like to see happen.
"On my side, I'm going to promise you I'm going to do everything I can to increase the capacity of our stadium and do what we can do to get people to the games because I think it's healthy," Burnett said. "They need to be out there, it gives people hope, it gives them something to look forward to and uplifts the soul. What we can do to get everybody in the stands we're going to try to do."