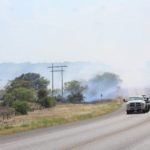 Brownwood News –  James Taylor isn't the only one to see fire and rain.  Coleman County residents along and north of Highway 67 saw fire, rain and wind damage Monday.
A large grass fire broke out near Valera along Highway 67 between Coleman and Valera.  Six county fire departments and air support from the Texas A&M Forest Service worked to stop the spread at about 130 acres.  It is believed that the fire started along railroad tracks, fire officials say.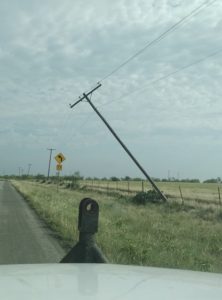 Utility line damage near Novice after Monday night storms. 
Photo courtesy Darrell Walker
Northwest Coleman County was hit with strong thunderstorms around sunset Monday evening causing wind damage at Novice and Lake Coleman.  Utility poles were leaning and tree limbs were snapped. The slow moving storms also brought heavy rain and a flash flood warning.  Rain amounts of 2 and two-tenths to 2 and a half inches were reported in northwest Coleman County at Goldsboro.  Novice received from 1 and a half inches to 2 and a quarter inches.  Lake Coleman reported 1 and eight-tenths.
High wind and heavy rain could happen in the same places all over again between 5 and 10 o'clock this evening as storms are back in the forecast.  Wind damage and hail will be possible in the strongest storms.
(fire photo courtesy of ColemanTODAY.com)