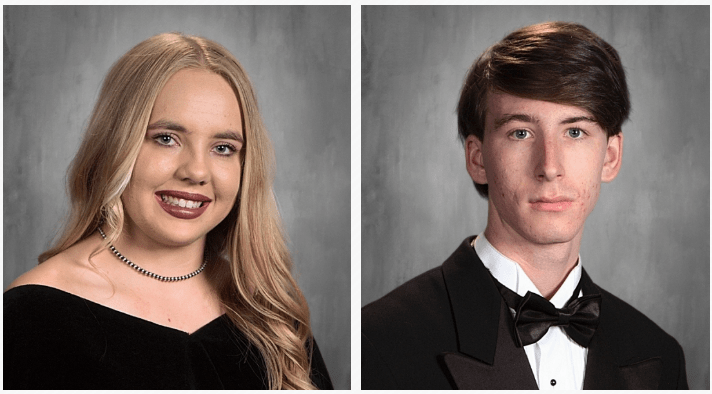 MAY – The May High School Class of 2023 will graduate at 7 p.m. Friday, May 26 at the May ISD Gymnasium, where valedictorian Kourtney Peacock and salutatorian Haydon Shipman will be honored as the top two graduates.
Peacock and Shipman were drum majors for the May High School Band during the 2022-23 school year.
As for finishing atop their class, Peacock said, "It means a lot. It shows our hard work over the years has paid off. We're two of the most dedicated people and involved in everything. It's so hard to comprise school work and extracurriculars but we make it work."
Shipman added, "We do everything. This year I haven't done as much but a lot of the time I had that was free we worked on film class. During first semester I was up here 24/7, if not working on school work then the film. We're both taking nine hours of dual credit this semester and I don't have internet at home so it can be a struggle. Sometimes I have to drive up here to the church to get stuff done. I'm also the first person in my family to graduate in the Top 10 of my class, so it means a lot."
After graduation, Peacock, the daughter of Emily Little and Jim Coley, intends to continue her education at Tarleton and pursue a degree in Bio-Medical Science.
"I didn't start touring any colleges until the summer going into my senior year," Peacock said. "I didn't want to go anywhere close, but I toured Tarleton and after having gone to cheer camp there it really felt like home. There's a homey atmosphere, plus my brother went there, so it was an easy decision.
"I'm going to study Bio-Medical Science there. I'm going to be a pediatric dentist. My brother went Tarleton and that's what he studied and now he's a pediatric dentist."
Shipman, the son of Amber and Jimmy Shipman, has chosen to attend Angelo State and major in Computer Science while minoring in music.
"I was going to go to North Texas and the leading factor was it's known as a music school and I've always been super dedicated to music," Shipman said. "At first, my plan was to be a band director. After looking, their education program isn't like their performance programs and Angelo State has a really good education side. I'd been to Angelo a few times and it's homey.
"I'm going to be a Computer Science major with a Music minor. I've done UIL Computer Science off and on over the years. My sophomore year we were carried by a senior and I didn't know what I was really doing. This year, being the senior on the team I picked it up more and was actually teaching myself how to do it and I found out I was really good at it, and I really enjoy it. There's lot of puzzles to it and it works with my brain."
As for what they will miss most about their time at May High School, Peacock said, "For me, cheer because it's a community-wide event. You have to spread spirit throughout the whole entire community and it starts in the summer because you have to go to cheer camp, decorate the town, there's the community pep rally at Bruner, and that showcases your abilities, that and the pep rallies on Friday. Even if the team doesn't win, we're behind them no matter what. Cheer is a big family and I'll actually be going to school with some of the cheerleaders from Early and Gorman."
Shipman added, "Band is the same way, especially during marching session because we're together all the time. They'll be days when we're at school from whenever we get out of class until 8 at night practicing. We spend a lot of time together so we're like a huge family. We have to keep our energy up and stay excited because we're a lot of the pep during the games."
Regarding advice they would give students who hope to one day to achieve valedictorian or salutatorian status, Peacock said, "Follow your dreams and work hard. I've worked hard for what I feel like is most of my life but I never thought I would end up here. I always thought everyone was much smarter than me, but I just pushed myself to be better every day. Don't settle for less, make yourself better each day and you'll see great rewards."
Shipman added, "If you're going to focus on your school work and try and do well, you're not going to be crazy popular. You have to be willing to sacrifice that, be willing to push yourself and be OK with not being the most popular person in the room."
As for where they see themselves in 10 years, Peacock said, "Probably finishing up schooling, trying to get out on my own as a pediatric dentist. I would like to own my own practice, but it may not possible by then, so I'll be working for my brother."
Shipman added, "I don't know where Computer Science is going to take me but the one thing I know for sure is I'll be playing music. I don't know if that will be in small groups or if I'll be performing in bigger areas, but I'll be playing music, it doesn't matter how far down the road it is."
***
VALS AND SALS/GRADUATION PAGE SCHEDULE
Monday, May 15– BCCS
Tuesday, May 16 – Early
Wednesday, May 17 – Zephyr
Thursday, May 18 – Brookesmith
Friday, May 19 – Blanket
Monday, May 22 – Brownwood
Tuesday, May 23– Bangs
Wednesday, May 24 – May
Thursday, May 25 – Premier
Friday, May 26 – Coleman