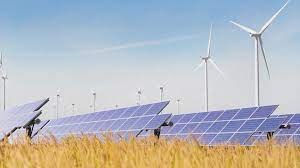 It's going to be a very hot summer this year. Already with triple digit degree weather in June, Texas has been scorching before July and August. Energy consumption is becoming record breaking in Texas, having everyone blast their air conditioning early in May and June.
This past yearly quarter, Texas' renewable energy capacity and usage this year has been highlighted in the extreme heat. To assist in the record-breaking energy consumption, both wind and solar power have been a huge help, accounting together for 34% of Texas's energy needs in the first quarter of 2022. With no fuel costs, wind and solar have kept energy prices down during peak demand.
As energy consumption goes up, the Texas's power grid is working tirelessly to meet that demand. This will continue throughout the hot summer, and it is uncertain how well the power grid will hold up.
Currently ERCOT shows that Texas's power grid is at normal conditions and will meet expected the current demand for energy. Ever since last year's Winter Storm Uri, which caused statewide blackouts and hundreds of deaths, Texas' power grid has been looked at with skeptical analysis if it will endure extreme weather conditions. This year, Texans will see if this summer will test its heat resistance.
Furthermore, experts are looking to Texas using renewables in replacement of other sources of energy like coal. Texas the number one state in wind energy. Wind power generally makes up around 20% of Texas' energy needs, with solar power rising in usage. Solar has been 4% of Texas' energy usage.
In a study done by Rice University, they noted, "The complementary timing of solar and wind in Texas, with sunshine peaking midday and winds peaking overnight in the west and on summer evenings near the coast, enables these high levels of displacement to be achieved."
{Story by Jacob Lehrer}