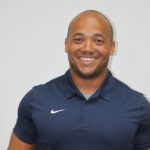 The Howard Payne University Yellow Jacket football team won seven games this year, with only three losses, the best record in over a decade.  Some of the credit can be given to former coach Braxton Harris for laying the foundation.  Current head coach Jason Bachtel, with his high-octane offense and aggressive defense, has taken the program to a new, higher level.  But this year's success on the football field is also partially a result of the Athletic Department's strength and conditioning program, headed by Coach Aaron Gill.
Aaron Gill is a native of Fort Worth, and played football at Southwest Christian high school.  He then attended Abilene Christian University, where he earned a Bachelor of Science degree in Exercise Science.  While studying at ACU he performed internships in collegiate strength and conditioning programs at the University of Hawaii and the University of Missouri.  He then went on to earn a Master's Degree in Kinesiology at Hardin-Simmons University, and did a graduate internship at the University of California at Berkeley.
With his Bachelor's and Masters degrees in hand, Gill worked one year at Lamar University as Assistant Strength and Conditioning Coach, followed by one year at Tulane University and two years at Grambling State University.  He then heard about the opening for Head Strength and Conditioning Coach at Howard Payne, interviewed with Athletic Director Hunter Sims, and accepted the position in January of 2019.
Strength and conditioning these days are a lot more than lifting weights and running.  It has become an advanced science, and the folks in the field speak their own language.  "The point of training athletes to improve athletic performance is, in my opinion, about force production and timing," said Gill.
Research shows that team sport athletes have between 0.12 and 0.15 seconds to express force.  "Whether that would be a running back making a cut, or a basketball player decelerating to get back on defense, or what have you, they usually have between 0.12-0.15 seconds to make that happen."  Gill further explained:  "If I am a running back running straight down the field and I encounter a defender, I have to make a left or right turn.  I have to apply force into the ground in order to make that happen.  The window that is open to me to do that is between 0.12-0.15 seconds.  What we do is make sure our athletes are capable of producing a maximum amount of force in a minimum amount of time, or in the time allotted to them in the context of their sport."
The HPU Athletic Department weight room currently has seven racks and 14 bar bells, and recently acquired funding will soon add three more racks.  Gill's program follows the Olympic weightlifting program.  "I'm a big Olympic lifting guy.  I believe in the Olympic movements.  So we will always start the day with whatever our 'clean' or Olympic derivative is for the day."  Their own language, indeed.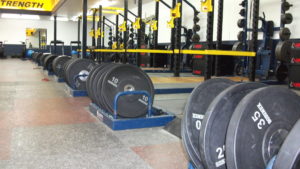 Gill's staff consists of two Graduate Assistants, Jairuzniel Rojas and Grace Rekowski.  They work with all athletes from all sports, men's and women's, totaling about 375 student-athletes.  To fit them all in, the workout sessions have to be carefully scheduled.  Their day begins early, about 5:30 a.m., with workouts until 9:00 a.m.  From then until 1:00 p.m. the students are in class, then the workouts resume until about 7:00 p.m.
The workouts vary according to the sport.  A football player needs maximum strength and high energy in short spurts, whereas a basketball or soccer player needs enduring outputs of energy.  "In the weight room, what's going to be the difference between sports is going to be the differences in their accessory movements and their volume of training."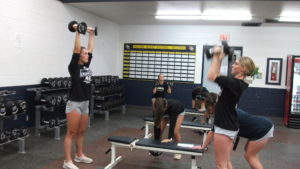 Another big part of the strength and conditioning program is proper nutrition.  Gill does not claim to be a nutrition expert, but he tells his students "I don't know a lot, but I know more than you do."
He starts by giving the students some general guidelines.  "We use a few equations that we have just to ballpark the daily intake of calories that they need, and break it down into how many calories they need per meal, and how many of those calories per day and per meal should be protein, carbohydrates, and fat.  Then we just give them some general options as to good sources of protein, carbohydrates, etc."
Most students eat on campus at the Mabee Center.  "We don't have the luxury of having an 'athlete's only' dining hall, where we can control what they eat and how much they eat.  It's about making sure they have enough information to make good decisions."  Chocolate donuts are not on his recommended list.
For the students who live off campus, Gill and his staff take them on grocery store tours and help them with shopping lists.  "If you're prepared and you have a plan, you're less likely to run off to the fast food restaurant."
Athletic Director Hunter Sims praises Aaron Gill and his program:  "Coach Gill is the thermostat of our Athletic Department.  He sets the temperature every single day for our student-athletes!  His character and integrity are second to none.  We are very fortunate to have Coach Gill and I believe he is one of the best in the business at all levels."
Head Football Coach Jason Bachtel gives Gill credit for his contributions to the football program:  "Prior to my time here at Howard Payne, you could already see that in the short time Aaron was here that the kids at Howard Payne were changing.  Now that I am here, not only do you see the changes, but now I see that we are bigger and stronger than people in our conference, and it ultimately pays off on the field.  He is first class in all things and is one of the most important guys in our organization, and is ultimately a large reason we were successful on the field this season."
I asked Gill to describe the progress made in his three years at Howard Payne.  "When I first arrived on campus, a lot of our athletes were under-developed.  We had a lot of kids who did not look the part, and were not able to express the knowledge they had about their sport because they did not have the physical ability to do what they knew to do.  And I think what we've done since I've been here is give the kids the tools to express their knowledge of the sport."
Earlier this year Aaron Gill married a local woman, Amy Seymour, and got an instant family in the package deal, two boys six and eight years old.  Hopefully he will be at Howard Payne and in Brownwood for a long time.