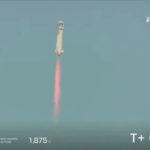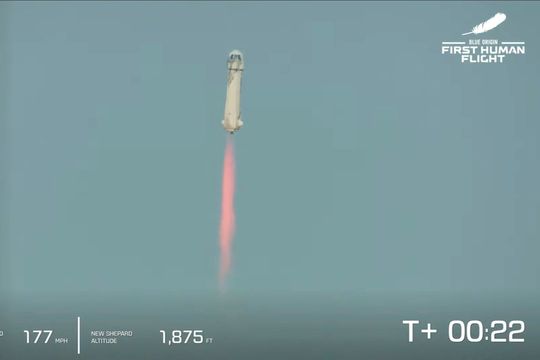 From a launch pad in West Texas, Amazon founder Jeff Bezos launched into space today with three other civilian astronauts.
Bezos founded Blue Origin twenty years ago, with the goal of making space accessible to everyone.  Twenty years and many billions of dollars later, the dream came to fruition.  Bezos travelled to low space with his brother Mark Bezos, Oliver Daemen, an 18-year old from the Netherlands, and Mary Wallace "Wally" Funk, an 82-year old woman who once was considered for the NASA astronaut corps in the early 1960's.
The rocket launched from Blue Origin's facility near Van Horn, Texas at approximately 8:12 a.m.  The crew travelled in a fully automated capsule called the New Shepard, named for Alan Shepard, the first American in space.  They climbed over 62 miles, where the crew capsule separated from the rocket, and the crew experienced a few minutes of weightlessness, as well as spectacular views out the window.
The rocket fell back to earth and landed upright and safely on a landing pad, nearby the launch pad.  The crew capsule descended to earth, slowed by parachutes, and made a soft landing in the desert.
Blue Origin plans many more crewed flights, two more this year.  If you want to go, and have plenty of money for the ticket, you can apply on the Blue Origin web site!