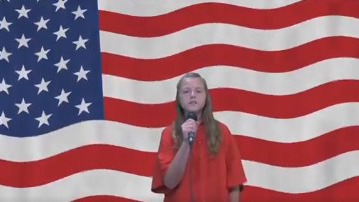 The winners in KOXE's 'Oh Say Can You Sing' contest, which determines who will open each night of the Brown County Rodeo June 3-5 by signing the National Anthem, were announced Thursday morning.
Receiving the most votes was Sydney Greaves with 296 and she will sing Saturday night. Clara Elkin garnered the second-most votes with 288 and will sing Friday. Tegan Windham tallied 228 votes and will serve as Thursday night's singer.
The rodeo begins each evening at 8 p.m. at the Earl Q. Wilson Arena at the Brown County Fairgrounds.