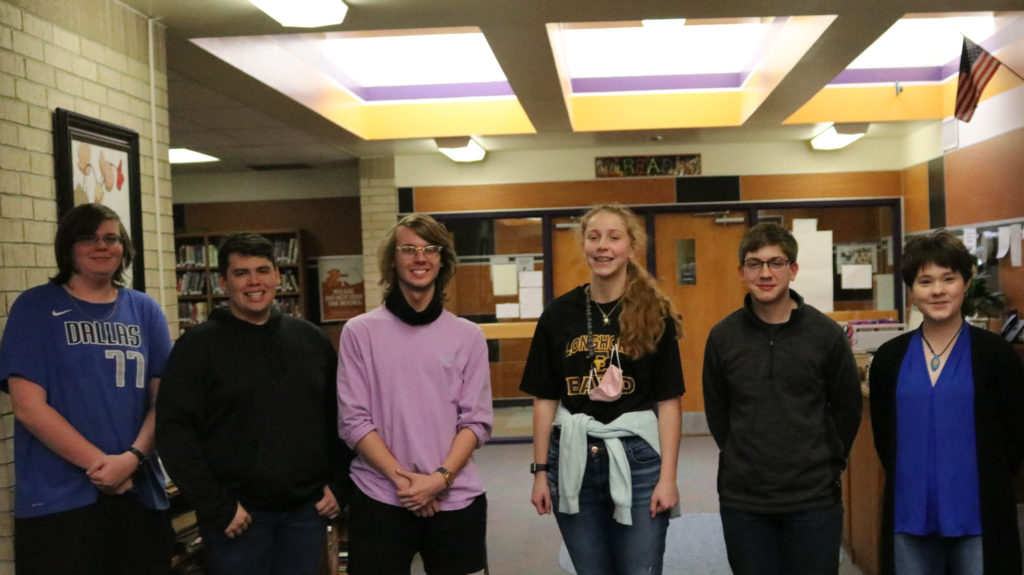 EARLY – The Early ISD family is still grieving the loss of 20-plus year employee Keith Taylor, who passed away on June 30, 2020 at the age of 65.
Taylor was a passionate fourth-grade teacher prior to his retirement and later was heavily involved with the robotics program and drove the bus for several out of town extracurricular events. The Early High School Future Problem Solvers (FPS) have come up with an idea to honor the legacy of the long-time educator.
FPS student Aaron Callaway said, "We're doing a memorial dedicated to Mr. Keith Taylor. We had a lot of project ideas floating around and this is one that just stuck out to us just because he was such an influential person to all of us in one way or another. He passed away during the summer and a lot of people didn't have closure just because of the whole situation with COVID. We wanted to dedicate a memorial to him to carry on his legacy."
Fellow FPS student Ty Conn described the project.
"It will be a slab of concrete with a steel telescope," McConn said. "He was big into looking at stars. We have someone making it into life-sized shape. We're going to put a memorial plaque or stone right there with that. It will be at Early Elementary where he taught for over 20 years."
Diann Biddle, who teaches the Early Future Problem Solvers, further elaborated on the project.
"We have the plans going on right now," Biddle said. "We developed a drawing of it with the measurements, we gave it to the welder and he's going to be the one building it. As soon as he gets it started he's going to be in touch with us. He said it'd take two weeks to get everything measured and laid out. We hope to have it done by May 4 which is the week of Teacher Appreciation."
McConn added, "The City of Early on May 4 is going to proclaim it Mr. Taylor Day. It ties in with Teacher Appreciation and the rough estimate of when our project should be done. We're planning on holding some kind of ceremony with that, along with our project."
"It also correlates to Star Wars Day, which is something Mr. Taylor really liked," FPS student Sidney Becktold added.
Becktold then described what Taylor meant to the student body.
"He was an important figure to all of us," Becktold said. "Not only did he teach the majority of us science, he also drove the buses for us. After he retired from the elementary he would substitute. He was always such a very happy figure. We did surveys and a lot of people described him as a father figure. He was able to inspire many of us to have a passion for science, especially for space. I remember he always had us document the phases of the moon. Even on some occasions when Jupiter was especially bright and visible, he would host planetary viewing parties basically allowing students who don't have telescopes and weren't able to access them a chance to really see the stars and planetary systems."
McConn also shared his earliest memory of Taylor.
"I moved here in sixth grade and he was the fourth grade science teacher so I didn't have him for class, but I was in robotics which is something he played a huge part in," McConn said. "I remember the first time when I moved down here there was a summer robotics camp which is something I was interested in and he ran it. I felt really good about moving to a new place, this was a new area, a place I'd never even heard about it, but I met a lot of good people and I knew if there were more teachers like Mr. Taylor here I would be just fine. He was one of the first people I met in this whole town and one of the favorite people I ever got to meet."
Biddle summed up what Taylor's devotion meant to Early students.
"Kids, when they get to looking at things like this, teachers are basically our unsung heroes," Biddle said. "It's one of those things where a lot of people get praise here and there, but you see very few teachers lifted as someone who really changed a life. If you look back over your life there's always one teacher that made a difference in your life and that one teacher is the one you remember all of your life, and that's what he was – he's a life changer."
Those who would like to donate to the Keith Taylor Memorial can do so at the Early ISD Central Office, located at 101 Turtle Creek Dr.