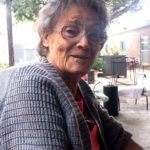 Shirley Baker, age 85, of Brownwood passed away Friday, January 15, 2021, at a local nursing facility.
Graveside Services for Shirley will be held at 2:00 p.m. Friday, January 22, 2021, at Santa Anna Cemetery with Justin Gown officiating; visitation will be held prior to services from 12 to 1:00 p.m. at Blaylock Funeral Home. Arrangements are under the direction of Blaylock Funeral Home of Brownwood.
Shirley was born on August 23, 1935, to Raymond and Carrie (Wells) Bible in Santa Anna, Texas. She grew up in Coleman County. Shirley married Silas Eugene Baker on April 19, 1955, in Santa Anna. She and Eugene moved to Brownwood in the 60's. She worked at Superior Cable in Brownwood. After 33 years of services with Superior Cable, she entered retirement at the age of 70.
When Shirley wasn't working, she enjoyed hunting, crocheting, reading and especially loved her Sunday afternoon BINGO. The legacy she leaves with her family is love big, be patient, work hard and always stay true to who you are. She devoted her life to giving her children the best life she could. She was the caregiver of the family, caring for many cousins, grandchildren, great-grandchildren, and especially to her husband, Eugene.
Shirley is survived by her daughter, Darlene King and husband Billy of Brownwood; 2 sons, David Baker and wife Teresa of Brady, Marty Baker and wife Gaytha of Brownwood; grandchildren, Scotty King and wife Melissa of San Saba, Chad King, Vickie James and husband Ryan of Weatherford, Gina Morris and husband TK of Seminole, Heather Still and husband Jeremy of Brownwood, Tony Baker and wife Ashley of Brownwood, Chris Baker of Brownwood, Tia Birdwell of Corpus Christi, James Baker of Brady and Austin Baker of Arkansas; great-grandchildren, Hunter Coffee, Lane King, Pason King, Brandon Still, Tatum Still, Aaron Wilson, Sawyer James, Taylor Morris, Gentry Morris, Ryder Morris, Faith Baker, Tofer Baker, Tucker Baker, Savera Birdwell, Ashton Birdwell, Kalessi Birdwell, Bryson Birdwell and Arya Birdwell; and her brother, Lynn Bible of Bangs. She is also survived by several nieces, nephews, and other relatives.
She was preceded in death by her husband, Silas Eugene Baker; parents, Raymond Bible and Carrie (Wells) Bible; sister, Carmeleta Brandstetter; and brother, Bufford Earl Bible.
Online condolences for the family are welcome at www.blaylockfuneralhome.com.