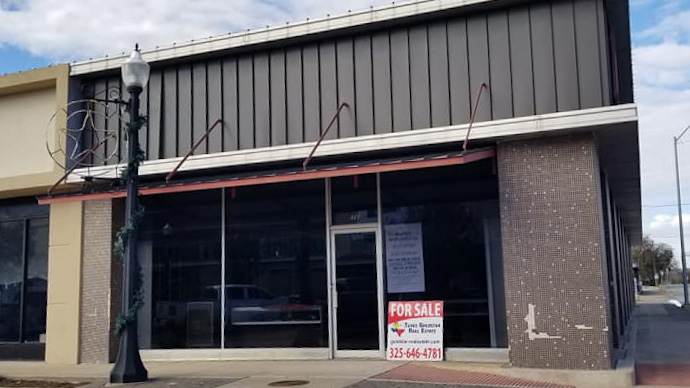 Add another new business to the revitalization of downtown Brownwood as the 10 Mile Productions wine tasting room is slated to open in 2021.
10 Mile Productions is owned and operated by Sara Cox and Hayley Fowler. The tasting room will be located at 401 Center Avenue, the former site of Wittig Jewelers.
"We got in the wine industry about 10 years ago and worked our way from tasting room to serving master to assistant wine maker at Kerrville Hills Winery," Cox said. "Last year we received two kinds of Zinfandel, then we decided at that point to start a company and we wanted it to be for Brownwood."
Born and raised in Brownwood, Cox – whose parents still live in town – knew exactly where she wanted the business venture to be located.
"I grew up in Brownwood and my business partner and my other half has been in Brownwood the last 10, 11 or 12 years." Cox said "It's a place that we love and a place that we wanted to see grow and a place that we wanted to be a part of."
Cox's Brownwood roots also led to the naming of the business.
"We thought about names for a while and we came across 10 Mile, and if you're from Brownwood everybody knows 10 Mile and 10 Mile Crossing," Cox said.
Seeking a location for the tasting room, Cox reached out to the City of Brownwood.
"We messaged Marshal (McIntosh) and Ray (Tipton) and told them we had started a company but we didn't have a tasting room and we were interested," Cox said. "We didn't exactly know how to go about finding a building downtown. We met up with Ray and he talked to a couple of real estate agents and business owners and we all thought a tasting room would be a great fit for Brownwood. The challenge was finding a building it could go in and be open quickly without putting a massive amount of money into infrastructure."
Cox stated she hopes the business is up and running in either February or March, but that will depend on the progress of the renovations.
Regarding renovations, Cox said. "We're going to upgrade all the light fixtures, paint, and add new flooring. We're going to turn the center of the building where there's a vault and where Mr. Wittig used to fix jewelry, we're going to turn that into the cellar. We're going to have a little private area in the back for small parties or business meetings. Up front will be your typical tasting room, we'll have 10 Mile Productions label and we'll have about five other wineries from the Hill Country all participating. We'll also have three or four beers on tap."
10 Mile Productions wines are produced at Kerrville Hills Winery, Cox said.