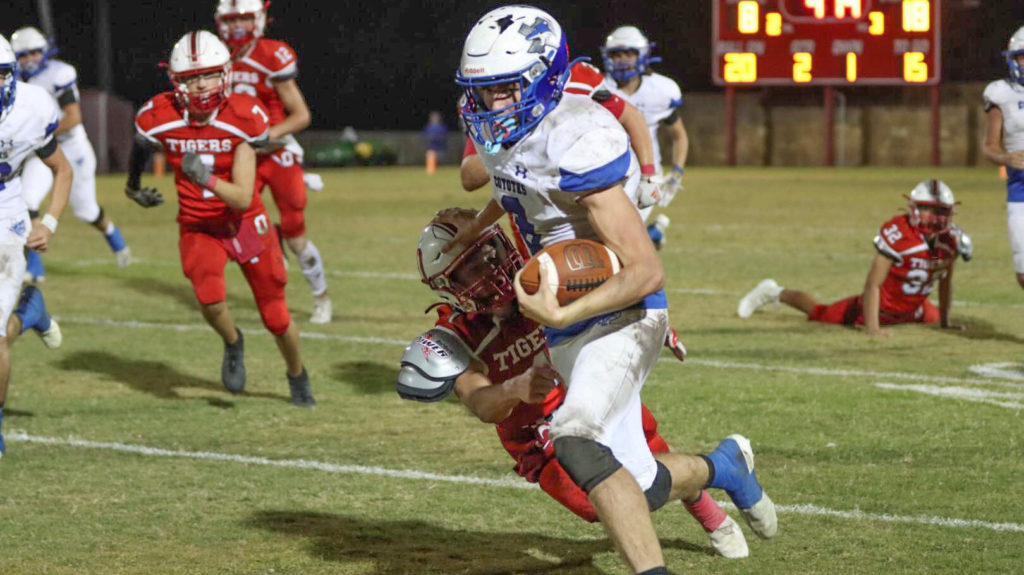 HICO – The reigning Class A Division II state champion Richland Springs Coyotes' quest for a repeat and 10th state title overall proceeded to the third round of the playoffs thanks to Friday's 70-38 triumph over the Oglesby Tigers in the Region IV semifinals.
With their 10th victory of the year, the undefeated Coyotes will square off with familiar foe Calvert (9-2) for the Class A Division II Region IV championship Thanksgiving weekend.
Against Oglesby (10-2), which was coming off its first postseason victory since 1983, Richland Springs led just 12-8 after one quarter, but distanced itself with three second-quarter touchdowns to open a 32-8 halftime edge. The Tigers closed the gap to 38-24 through three periods, but the Coyotes pulled away thanks to a 32-point fourth quarter.
Richland Springs generated 411 yards of total offense – 254 rushing and 157 passing – and did not commit a turnover. Meanwhile, Oglesby finished with 296 yards – 163 on the ground and 133 through the air – and gave the ball away three times.
Zane Capps rushed for 180 yards and four touchdowns to spark the Coyotes ground game, while Landon Burkhart passed for 145 yards and four scores. Jadeyn Bryant caught three passes for 52 yards and scored twice, Capps hauled in three grabs for 39 yards with a trip to the end zone, and Chase Gossett pulled down a 9-yard scoring toss.
Defensively for Richland Springs, Bryant recorded 12 tackles with two for loss, Gossett added 8.5 tackles and a pair of interceptions, and Capps finished with 7.5 tackles and picked off a pass.
Davin Barrow was the standout for Oglesby with 96 rushing yards and three scores, to go along with 87 passing yards and another touchdown. Coltin Brock caught seven passes for 131 yards and two touchdowns for the Tigers.
Richland Springs opened the scoring 1:07 into the contest with a 23-yard touchdown pass from Burkhart to Capps.
Oglesby answered with a 21-yard scoring sprint from Barrow, and the two-point kick, for its only lead, 8-6, with 6:01 left in the first period.
The Coyotes fired back with the next four touchdowns on a 9-yard pass from Burkhart to Gossett, runs of 6 and 50 yards by Capps, and a 12-yard scoring toss from Burkhart to Bryant, giving Richland Springs a 32-8 halftime cushion.
The only touchdown for Richland Springs in the third quarter came on an 11-yard Capps carry, but in the fourth Burkhart hit Bryant for a 27-yard score, Bryant later returned a kickoff 57 yards for six points, Capps added another scoring run of 8 yards, and Gossett put the finishing touches on the Coyotes' performance with a pick six.