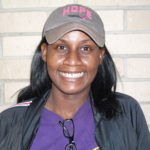 Brownwood News – Local resident Charity Adams was recently elected State President of the Texas Jaycees.  Adams was elected October 24 in the statewide "virtual convention" via Zoom.  Her term begins January 1, 2021.
Adams was born and raised in Brownwood, and was graduated from Brownwood High School in 2001.  She currently works for Draco's Janitorial, assistant manager of the custodial services on the Early High School campus.  She is also working on getting her cosmetology license.  Adams has 10-year old triplet girls:  Chloe, Cam, and Courtnee.
Being a bundle of energy, all of that apparently was not enough to keep Adams busy.  Her rapid rise to the top of the Texas Jaycees organization began three years ago, when she joined the Brownwood chapter of the Jaycees.  She currently serves as President of the Heart of Texas Jaycees chapter, a post she will have to resign on December 31 to take the State President job on January 1.
Adams tells the story:  "I went to a state convention in Pflugerville in September 2018.  Rebecca Hoffman was being sworn in as State President, and she wanted me on her State Board as Vice President of Community Development.  I did that for a year, then in September 2019 I went from Community Development to Vice President of Membership Development."  She was then elected this month as State President for 2021.
Adams said she was nervous and in shock initially, upon her election.  "What did I just do?", she thought to herself.  "But I see this as a blessing, because I did it.  I didn't have the help of my uncle, didn't have the help of my mom.  I worked for it.  I set this as a goal for myself and I reached it."
She will travel to Tennessee in December for a State President's camp.  When asked about her goals for her year as Texas Jaycees State President:  "One of the things I want to do as State President is mend bridges, because between the (local) chapters and the state board, the bridge is cracked.  The organization is only as strong as the chapters, and vice-versa.
"Secondly, I want to be able to do different youth activities, both in and out of schools.  I know in inner city schools you have different groups. You have different styles and personalities.  But if you really look closely, you may have one who plays football, is a cheerleader, etc.  And then you have one who is a loner, but they are all going through the same things.  They can actually help each other more than they realize… The things the youth are experiencing in the community are sometimes heart breaking, because it's not the same world I grew up in… We want to focus on our youth and prepare the youth, so once they hit college they will be professionals and be leaders in the community.  We really need that."
The Jaycees organization was originally founded in St. Louis, Missouri in 1915.  Their web site states:  "The U.S. Junior Chamber exists for active young citizens ages 18-40, who bring energy and insight to solving problems locally and around the world."
The Texas Jaycee web site states:  "The Texas Junior Chamber gives young professionals between the ages of 18-40 the tools they need to build the bridges of success for themselves in the areas of business development, management skills, individual training, community service and international connections.  Members contribute to the advancement of the global community by using that opportunity to develop their leadership skills, social responsibility, entrepreneurship, and fellowship necessary to create positive change."