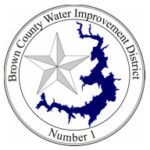 Brownwood News – The Brown County Water Improvement District, at its October Board of Directors meeting, voted to make new leases available on McCartney Island in January 2021.
There are three leases that have recently been taken back by the BCWID, plus 21 new leases that are being created.  Each lease is for 50-ft. of waterfront, and electricity is available on all of them.  No structure can be built on the island, but a dock can be installed.
The new leases can be passed on to certain defined family members, but cannot be sold.  If the lease is not kept within the family, it will revert to the BCWID.  If a dock is installed, it can be sold.  Cost of the lease is $375 per year.
Application for a lease can be made at the Water District office at 501 East Baker Street.  If more than 24 applications are received, the successful applicants will be "drawn out of a hat" in January.
If any questions, call the BCWID office at 325-643-2609.