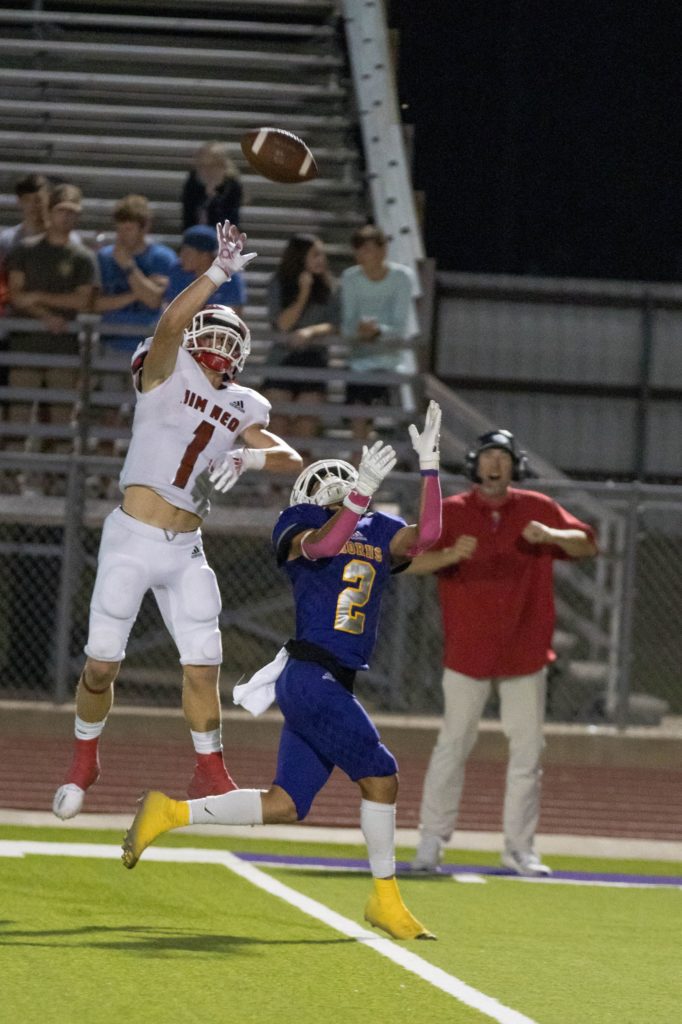 EARLY – The Early Longhorns' two-game win streak came to an end Friday night as the No. 5 Jim Ned Indians rolled to a 46-14 victory in the District 3-3A Division I opener for both teams.
Jim Ned (4-1, 1-0) finished with 489 yards of total offense behind a balanced attack that featured 247 rushing yards and 242 passing yards.
Meanwhile, Early (3-3, 0-1) produced 203 yards – 160 through the air and 43 on the ground – while committing a pair of turnovers.
The Longhorns – seeking their first postseason berth since 2008 – trailed just 7-0 after one quarter, but Jim Ned stretched the lead to 19-0 by halftime and carried a 33-7 edge into the fourth period.
Early quarterback Jaxyn Price completed 7 of 18 passes for 160 yards with one touchdown, as leading receivers included Tre Beam with three grabs for 53 yards, Alex Jacobs with a 53-yard touchdown reception, Tyson Tyler with a 22-yard catch, Caleb McCullough with a 20-yard reception, and Hayden Schroeder hauled in a 12-yard catch.
On the ground, Jacobs was limited to 26 yards on 14 carries, Price rushed for 15 yards on five totes, and Beam chipped in a 2-yard carry.
Jim Ned quarterback Tate Yardley passed for 221 yards and three touchdowns, while Xavier Wishert rushed for 134 yards and three scores. Troy Doran also threw for 21 yards with a scoring toss. Leading receivers included Carson Perez with four catches for 48 yards and a touchdown, Braden Lewis with three grabs for 15 yards with a trip to the end zone, and Reid Duncan and Sergio Hernandez tacked on scoring receptions of 21 and 5 yards, respectively.
Early will attempt to notch its first district victory next week as the Longhorns visit Breckenridge (0-5, 0-1), which is coming off a 38-21 loss to Clyde Friday night.