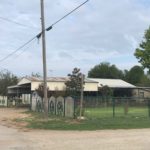 An attempt to serve a murder warrant Wednesday morning on a wanted suspect from Mexico resulted in the suspect taking his own life at a residence in north Coleman.  According to Coleman County Sheriff Les Cogdill, the suspect has been identified as Juan Diego Hernandez, 44, of Mexico.  Cogdill said Hernandez had been working for a local fence company and was living at the Ripley Street residence with four other people who were not injured in the incident.  No law enforcement officers were injured.  Hernandez was wanted for killing his wife.
Numerous law enforcement agencies converged in the 700 Block of Ripley Street early this morning.  The suspect was wanted for killing his wife.  In a statement from Coleman County Sheriff Les Cogdill:
"This past Friday, the Coleman County Sheriff's Office received information of a wanted murder suspect out of Mexico. The sheriff's office notified the Texas Rangers and the U.S. Marshals Service and started working the case."
By Tuesday, September 15, law enforcement was able to identify the suspect as someone living in Coleman on Ripley Street on the north side of town.
"We contacted the Marshals Service and the Rangers and told them the suspect had been identified. The U.S. Marshals Service brought a fugitive task force team, consisting of nine officers, from Del Rio to Coleman. We observed the suspect outside the residence, went to make contact with the suspect, he ran back into the residence. After several minutes of negotiating, trying to get the male out of the house, the suspect walked out of the house, has a revolver in his hand and shoots himself in the head," Sheriff Cogdill said.
The body of the suspect was taken from the scene by Stevens Funeral Home in Coleman.