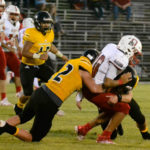 KNOX CITY – The May Tigers bounced back from a four-point loss to Sterling City last week with a four-point triumph, 60-56, over the Knox City Greyhounds Friday night.
May (2-1) led Knox City (1-2) by an 8-0 count after one quarter, 30-28 at halftime and 44-42 through three frames.
The Tigers amassed 611 yards of total offense – 323 passing and 288 passing.
Blake Harrell completed all four of his pass attempts for 116 yards and two scores while Rory Bustamante connected on 7 of 14 passes for 207 yards and two scores.
Hayden King caught four passes for 113 yards and three touchdowns, Kaden Halk added four catches for 114 yards, Chris Flenniken finished with two grabs for 47 yards and a touchdown, Bustamante caught a 31-yard pass and Isidro Salinas made a 9-yard catch.
On the ground, Halk rushed for 102 yards and two scores, Bustamante finished with 83 yards and a score, Damian Salinas chipped in 48 yards and a touchdown, Isidro Salinas tacked on 39 yards and Aaron McGinn rushed for 16 yards.
Defensive standouts included Flenniken with 12 tackles and an interception, King with 11 tackles, Isidro Salinas with 8 tackles, Halk with 8 tackles, an interception, and a fumble caused, Harrell with 6 tackles and a fumble recovery, Bustamante with 4 tackles and an interception, Brian Kunkel with 4 tackles, Korbin Bass with 3 tackle, Damian Salinas with 3 tackles, and Aaron McGinn with 2 tackles.
Next week, May will battle Nueces Canyon (1-1), coming off a 46-0 loss to Balmorhea, at 6 p.m. Saturday in Eden.
Brookesmith 70, Rochelle 68
ROCHELLE – The Brookesmith Mustangs recording their first victory of the season Friday night, slipping past the previously undefeated Rochelle Hornets, 70-68.
Brookesmith (1-1) led Rochelle (2-1) by 32-16 count after one quarter, 44-33 at halftime and 70-62 through three quarters.
The Mustangs compiled 324 total yards – 189 rushing and 135 passing – while allowing 416 yards – 266 through the air and 150 on the ground. Both teams turned the ball over twice.
Avery Williford rushed for 103 yards and two scores for Brookesmith while Johnathan Willoughby chipped in 91 yards and three touchdowns.
Through the air, Clayton Adame was 2 of 3 for 71 yards and two touchdowns, while Willoughby was 3 of 4 for 64 yards with a scoring toss.
Randall Williams tallied a team-high three catches for 97 yards and two scores, while Williford hauled in a 39-yard scoring reception. Williford also scored on a 47-yard kick return.
Tristen Slayton led Brookesmith with 17 tackles and Williford added 11.
Next week, Brookesmith ventures to Santa Anna (3-0), as the Mountaineers are coming off a 68-22 win over Rising Star.
Blanket 51, Lingleville 6
LINGLEVILLE – The Blanket Tigers chalked up their second straight blowout win Friday night, hammering the Lingleville Cardinals, 51-6, Friday night.
The Tigers (2-1) jumped out to a 30-0 lead on Lingleville (0-3) in the first quarter and outscored the Cardinals, 21-6, in the second quarter.
Blanket generated 287 yards – 223 rushing and 64 passing – with no turnovers, while giving up just 60 yards – 37 through the air and 23 on the ground – with two takeaways.
Damon Carrillo rushed for 113 yards and three touchdowns, Hector Castaneda chipped in 46 yards and a score, Brayden Day added a 21-yard scoring sprint and Emmanuel McLaughlin contributed 24 yards on the ground.
Carlos Morales completed 2 of 3 passes for 64 yards and a touchdown as Tyler Simpson caught both passes.
Next week, Blanket plays hosts to Zephyr (0-3), which is coming off a 72-66 loss to Stephenville Faith.
Stephenville Faith 72, Zephyr 66
ZEPHYR – The Zephyr Bulldogs again inched closer to their first victory, but once more were denied by Stephenville Faith, 72-66, Friday night.
Zephyr (0-3) trailed 28-14 after one quarter, cut Stephenville Faith's (2-1) lead to 40-38 at halftime and was down 60-54 heading to the fourth period.
No further information on the game was available.
Next week, Zephyr makes the short drive to Blanket (2-1), which knocked off Lingleville, 51-6, Friday night.
San Saba 34, Mason 0
MASON – The San Saba Armadillos remained undefeated by keeping the Mason Punchers winless, 34-0, here Friday night.
San Saba (3-0) rushed for 406 of its 414 of total offense against the Mason (0-3) defense.
Stone Sears led the way with 178 yards and one touchdown, Wesley Lackey chipped in 112 yards and two scores and quarterback Risien Shahan tallied 90 yards with a trip to the end zone.
Defensively, Bryan Reza led the Armadillos with 10 tackles, Logan Glover, Bladen Calley and Brendon Morris recovered fumbles and Reagan Mejia intercepted a pass.
Next week, San Saba visits Llano (3-0), which downed Bandera, 52-0, Friday night.
Coleman 15, Brady 12
COLEMAN – The Coleman Bluecats overcame a 12-point deficit and improved to 2-1 on the season with a 15-12 home win over the Brady Bulldogs Friday night.
Coleman's first points came when Dylan Mickler returned a fumble conversion attempt to two points as Brady grabbed a 12-0 lead with a 63-yard fumble return by J.D. Ibarra.
The Blucats crept within 12-9 on a 1-yard quarterback sneak by Corbin Rosales with 2:51 left in the first half.
Coleman scored the go-ahead points with 4:57 to go on a 39-yard scoring sprint by Devinar Robinson.
The Bluecats rushed for 181 yards s a team and Ryland Gentry led the way with 85 yards. Roberson finished with 59 yards.
Defensively, Coleman limited Brady (1-2) to 187 yards of total offense.
Next week, Coleman heads to Grape Creek (1-2), which knocked off San Angelo TLCA, 41-12, Friday.
Goldthwaite 48, Olney 8
GOLDTHWAITE – The Goldthwaite Eagles notched their first win of the season on homecoming, clobbering the Olney Cubs, 48-8.
Goldthwaite (1-2) led Olney (1-2) by a 12-0 count after one quarter, 19-0 at halftime and 40-0 through three periods.
The Eagles produced 414 yards, with 389 coming in the ground, with two turnovers, while allowing 243 yards, all on the ground, with one takeaway.
Seth Gardner rushed for 105 yards and one touchdown, Jackson Patrick chipped in 77 yards and two scores, Dusty Partin finished with 75 yards and a touchdown, Carysn Campbell tallied 53 yards and scored once, Cason Guthrie churned out 47 yards and a touchdown and Aaron Anzua tacked on 32 yards.
Through the air, Patrick hurled a 25-yard scoring toss to Guthrie.
Angel Morales led the Eagles with 16 tackles, Partin added 14 and Mitchel Hopper finished with 13.
Next week, Goldthwaite travels to Florence (0-3), which dropped a 35-21 decision to Bruceville-Eddy Friday night.
Haskell 20, Cross Plains 16
HASKELL – Fresh off an appearance in the Dave Campbell's Texas Football Class 2A Division II Top 10, the No. 9 Cross Plains Buffaloes were dealt a 20-16 upset by the previously-winless Haskell Indians Friday.
Cross Plains (2-1) led Haskell (1-2) by a 7-0 count after one quarter and 14-7 at halftime. Haskell drew even at 14 in the third and added a fourth-quarter touchdown to the Buffaloes' safety.
The Buffaloes finished with 249 yards – 137 passing and 112 rushing – with three interceptions, while allowing 200 yards – 135 on the ground and 65 through the air – with one takeaway.
Cody McWilliams rushed for 62 yards and a touchdown, while Cason Allen added 35 yards while passing for 137 yards and a score to Ryan Hopkins, who caught three passes for 73 yards. Wade Byrd added three grabs for 62 yards.
Next week, Cross Plains looks to bounce back at home against De Leon (0-3), which fell to Millsap, 27-20, Friday night.