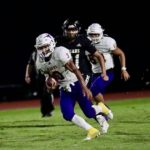 COMANCHE – The Comanche Indians improved to 3-0 on the season, while the Early Longhorns slipped to 2-1 following Friday night's 35-7 decision.
Early was limited to 195 yards of total offense – 116 passing and 79 rushing.
Quarterback Jaxyn Price connected on 20 of 33 passes for 116 yards with one touchdown. Alex Jacobs caught four passes for 10 yards, Caleb McCullough caught three passes for 17 yards and scored once, Tre Beam added two grabs for 43 yards while Tyson Tyler hauled in two receptions for 26 yards. Hayden Schroeder chipped in a 15-yard catch and Jeremy Brown added a 5-yard reception.
On the ground, Beam rushed for 74 yards, Jacobs added 44 and Price finished with 44.
The Longhorns turned the ball over three times.
Comanche led 14-0 after one quarter, 28-7 at halftime and were in front 35-7 going to the fourth quarter.
The Indians racked up 365 yards of total offense – 277 rushing and 88 passing.
Luke Wilson rushed for 144 yards and two touchdowns, Logan Wilkerson added 72 yards and two scores, and Bryce Hermesmeyer rushed for a 12-yard touchdown.
Through the air, Hudson Welch was 3 of 6 for 77 yards while Miguel Martinez completed an 11-yard pass. Hermesmeyer hauled in a 37-yard reception, Matthew Gonzales caught a 31-yard pass, Wilkerson made an 11-yard catch and Taelon Sorrells added a 6-yard catch.
Defensively, Cash Cook led Comanche with 14 tackles trailed by Christian Holmes with 10.
Next week, Early travels to Merkel (2-1), which is coming off a 35-21 loss to Hawley, while Comanche heads to Tolar (0-3), which suffered a 41-0 loss to Boyd.