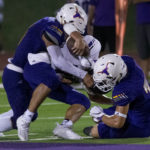 The Early Longhorns are coming off their first victory of the season, but could be facing their toughest challenge to date in the red-hot Comanche Indians. Kickoff between the Longhorns (1-1) and the Class 3A Division II No. 13 Indians (2-0) is set for 7:30 p.m. Friday in Comanche.
After dropping a 28-0 decision to Bangs in the season opener, the Longhorns responded with a 41-25 home triumph over Tolar last week.
"It's huge that we got that first win," said Early first-year head coach Daniel Price. "Now they know what it's going to take. It wasn't easy and they understand now that a lot of work goes into that on a Friday night. We caught some good breaks against a good Tolar team, they turned the ball over a couple of times. That set us up and we capitalized which is good for those younger guys. Having that first win will hopefully build confidence moving forward. We'll see Friday night going to Comanche, which will be another good challenge."
Comanche, meanwhile, has started its season with wins over Class 2A Division I No. 17 Mason, 14-0, and Brady, 28-7.
"They are physical up front and they run to the football, which are things that you hate to see from an opposing team when you're watching film," Price said of the Comanche defense. "They're really disciplined, they got after Mason and Brady up front. It's going to be a big challenge for the offensive line to see if we can control the line of scrimmage and do some things against them and be successful."
Comanche's defense is anchored by Cash Cook (21 tackles), Matthew Gonzales (12 tackles, 3 for loss), and Bryce Hermesmeyer, Jorge Rios, and Christian Holmes (10 tackles each). The Indians have amassed five sacks, with two by Braden Kennedy, and collected five takeaways, including two interceptions by Hermesmeyer.
Early counters with an offense that produces 20.5 points and 266.5 yards – 175 rushing and 91.5 passing – per outing, with five turnovers.
Quarterback Jaxyn Price has completed 13 of 32 passes for 143 yards with one touchdown and three interceptions, while rushing for 82 yards and a score. Leading receivers include Caleb McCullough (5-26), Tyson Tyler (3-15), John-Stewart Gordon (2-66, TD) and Hayden Schroeder (2-46, TD). The ground game is anchored by Alex Jacobs (172 yards, 1 TD) and Tre Beam (96 yards, 2 TDs).

"Offensively I'd like to see us finish the game," Price said. "We spit and sputtered a little last week at the end, we got out of rhythm. We had some penalties that brought back some big runs late in the game, and I'd like to see that get cleaned up. We need to play a full four quarters execution wise.
"We have to do a better job of putting drives together because we might not have very many possessions with the style of offense that Comanche runs. We might not get as many opportunities so we have to take advantage of them when we do."
The Indians generate 193.5 yards per game, with 143 coming on the ground. Quarterback Hudson Welch has connected on 10 of 25 passes for 122 yards with two touchdowns and one interception, while Hermesmeyer has caught four passes for 70 yards and one touchdown, while Luke Wilson and Aaron Suniga have also scored on the ground.
"Their offense is challenging because you don't see the wing-T a whole lot," Price said. "It's hard to prepare for when you don't run it and it's hard to get any kind of scout team practice during the week because you can't simulate their pace, you can't simulate the speed at which they execute, so that makes it very hard to prepare for them and be ready. Usually you spend the first possession or two trying to figure out their pace of play which is going to put our defense at a disadvantage, But we're experienced so I hope our defense will come along pretty quickly and hold up and not let them score early."
Early is surrendering 26.5 points and 311 yards – 146 rushing and 165 passing – per game, with four takeaways. Standouts include Beam (20 tackles, 4 for loss, 2 sacks, 1 FR), Marcus Morelan (14 tackles, 1 sack), Korbin Hall (12 tackles, 1 for loss), McCullough (10.5 tackles), Bradon Schwartz (7 tackles), Gordon (7 tackles), and Tucker Hale (6 tackles).
"Defensively I'd like to see us be a little bit better on the over the top ball," Price said. "We worked on some of those things where we're putting ourselves in a good position to be successful and those kids are out there making a play. Hopefully we'll clean up some of the big plays defensively and not give up big plays."
According to Harris Ratings Weekly, Early is a 27-point underdog.
Early Longhorns 2020 Football Stats
Through 2 Games (1-1)
TEAM OFFENSE
20.5 points per game (41)
266.5 yards per game (533)
175.0 rushing yards per game (350)
91.5 passing yards per game (183)
PASSING
‒ Jaxyn Price
13 of 32 for 143 yards, 1 TD, 3 INTs
‒ John-Stewart Gordon
1 of 1 for 40 yards
RUSHING
‒ Alex Jacobs
172 yards on 32 carries, 1 TD
‒ Tre Beam
96 yards on 20 carries, 2 TDs
‒ Jaxyn Price
82 yards on 23 carries, 1 TD
‒ Caleb McCullough
0 yards on 1 carry
RECEIVING
‒ Caleb McCullough
5 catches for 26 yards
‒ Tyson Tyler
3 catches for 15 yards
‒ John-Stewart Gordon
2 catches for 66 yards, 1 TD
‒ Hayden Schroeder
2 catches for 46 yards, 1 TD
‒ Tre Beam
1 catch for 27 yards
‒ Alex Jacobs
1 catch for 3 yards
TEAM DEFENSE
26.5 points per game (53)
311.0 yards per game (622)
146.0 rushing yards per game (292)
165.0 passing yards per game (330)
TACKLES
‒ Tre Beam
20 tackles, 4 for loss, 2 sacks, 1 FR,
‒ Marcus Morelan
14 tackles, 1 sack
‒ Korbin Hall
12 tackles, 1 for loss
‒ Caleb McCullough
10.5 tackles
‒ Bradon Schwartz
7 tackles
‒ John-Stewart Gordon
7 tackles
‒ Tucker Hale
6 tackles
‒ Franky Villarreal
5 tackles
‒ Rylie Hill
4 tackles
‒ Tyson Tyler
3 tackles, 1 INT
‒ Casey Moseley
3 tackles
‒ Jeremy Brown
2.5 tackles, 1 INT
‒ Wade Kennedy
2 tackles, 1 sack, 1 FR
‒ Chris Fernandez
1 tackle
‒ Adan Aleman
1 tackle
‒ Bradly Roman
.5 tackle
‒ Ryan Parisi
.5 tackle
‒ Alex Jacobs
.5 tackle