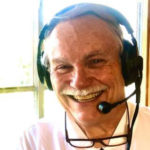 Beloved radio personality Carl Wayne returned to the KOXE airwaves bright and early Thursday morning after being cleared to return to work by the Brownwood/Brown County Health Department following a bout with COVID-19.
Wayne – who has been a fixture on the morning show, in the afternoons and with Brownwood Lions sports for more than a decade – has not been live on the air since Tuesday, Sept. 1.
"It feels great to get back on the air," Wayne said. "I've been chomping at the bit for 10 days now or whatever it's been to get back to work and get back on the air. I love my job and I love my co-workers and unfortunately a couple of them are out now with COVID. It's really nice to get back on and get back to some sense of normalcy. I've been ready for several days and getting that release from the health department was like a dream come true actually."
Wayne, along with "Voice of the Lions" Dallas Huston – who is in his 58th season of broadcasting Brownwood football – and his wife Linda Huston, all tested positive for COVID and none of the three were allowed to attend Brownwood's home opener against Midland Greenwood this past Friday, a 35-15 Lions' victory.
"It was hard, absolutely," Wayne said of missing the game. "Dallas and I have worked the last 13 years together and we've only missed a couple of games when he was ill a few years ago. It was tough for me but I know it was really hard on Dallas having to miss the game. I just pray that Dallas is back soon along with Linda. I listened on the radio, watched a little video and Randy Turner and Scott McDaniel did a great job and I appreciate them. I'll be back in the booth on Friday, not sure about Dallas yet.
Wayne will be back in the broadcast Friday night as the Lions welcome China Spring to Gordon Wood Stadium, and will handle play-by-play duties with McDaniel working as the color commentator if Huston is not able to take part in this week's broadcast.
Wayne stated he was fortunate in that he only suffered from a minor case of COVID.
"The health department called every day and checked on me and aside from having a stuffy head from time to time I felt great," Wayne said. "A lot of people say they lose their sense of taste and smell through all of this, never had that or never really had any coughing issues, issues with my throat or breathing issues. It was more of a mild case is what they told me last week so I've been dealing with it and been feeling pretty good with no major issues to speak of from the COVID."
Having experienced COVID-19 first hand, Wayne had a new appreciation for the virus.
"For anybody who thinks COVID isn't a real thing they're wrong because it is real," Wayne said. "There were a couple of days that were pretty interesting for me when I first for this stuff. I didn't have any major issues but I know people who have. I know a young lady right now that has COVID and has been nauseous with the coughing and breathing issues, it's a real thing and strike people in different ways. I've been educated about it quite a bit in the past week and a half and learned some things I didn't know. I urge everybody to protect themselves and wear those masks and do what the health department wants us to do to keep everyone safe and healthy."
Wayne also wanted to express his thanks to all those who checked in on him and offered well wishes over the past 10 days.
"People have been amazing through all this and I guess one of the reasons I've gotten through all this over the last 10 days," Wayne said. "Thanks for the calls and messages, and all the kind words, and the food. A lot of the same people will call and check on me everyday and wondered when I was getting back to work and wonder how I feel. I just want to say thank you to everybody that's reached out."