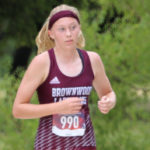 The Brownwood Lady Lions placed second as a team at the recent Hico Invitational cross country meet. The Lady Lions finished with 54 points which trailed only San Saba's total of 39, and left Brownwood ahead of Glen Rose with 57 points, Hico with 86, Stephenville with 118 and Gorman with 144.
Emma Stegemoller finished fourth in a time of 13:35.98 to the lead the way for the Lady Lions followed by CarolAnn Hetzel (fifth, 13:48.62), Naysa Leach (eighth, 14:23.97), Brileigh Price (19th, 15:28.03), Kinnison Harvey (20th, 15:34.17), Ava Brownlee (22nd, 15:48.74), Molly Oliver, (26th, 16:03.83), Taylor Pickney (28th, 16:19.58), Alexandria Touhakis (30th, 16:30.06), and Jillian Lambert (41st, 17:32.51).
The Lady Lions were coming off a sixth-place team performance at the Brownwood Invitational, their first outing of the season.
Brownwood's next meet is slated for Sept. 16 at Glen Rose.