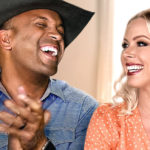 Bangs native and Howard Payne graduate Coffey Anderson's country music career is well-established, but next month he, his wife Criscilla, and their three young children will be involved with an entirely new entertainment medium. "Country-ish," a reality series that will chronicle the life of the Andersons, will debut on Netflix Sept. 25.
"It's about family and it's a goofy, funny way to tell a family story," Anderson said. "The catch is you have a black country singer married to a white hip hop dancer and they live in L.A. You've got a boy that's for real Brown County, I smell like Underwood's peach cobbler and Allsups' burritos, and now you throw me in the middle of L.A. It's funny, I don't care who you are.
"It's one of the few shows that are family friendly entertainment. You can watch it if you're the grandbaby or the grandma, you don't have to worry about the content. There is no political agenda, no sensitivities, just family. It's the release valve we've been looking for."
Anderson said the idea for the show came after a Facebook family video went viral, garnering more than 57 million views.
"I had a video go viral on my Facebook (facebook.com/coffeyanderson) of me playing a joke on Criscilla on how to spell "yes." I asked her what does y-e-s spell and she said yes, and I asked her what e-y-e-s spells and she said "e-yes." Fifty-seven million views later, people are going crazy. In the middle of the video I said we deserve our own reality show, so contact us E or Bravo.
"Bravo actually called about 30 minutes later. She said were you serious about a show and I said as a heart attack. She introduced me to a company called Evolution, which created Orange County Housewives and Housewives of Atlanta. We met with them and decided to do a pilot to see if anyone was interested."
The pilot drew significant interest, especially from TV producer Mark Burnett and his wife, actress Roma Downey who starred in "Touched By An Angel."
"Roma liked the idea that we had a family friendly idea for a television show," Anderson said. "She liked that my music was clean and felt there was an opportunity here to fill in a gap that TV is missing. Mark created Shark Tank, The Voice, Survivor, The Apprentice, and he was like 'I like this idea,' so they bought 12 episodes of our show. COVID hit and all the networks weren't working because they could no longer film. People were looking for shows that were already packaged, so Roma pitched us to Netflix and they said yes."
The show will also highlight Criscilla – a Las Vegas native who has danced in videos for Katy Perry, Rhianna, and Snoop Dogg, among others – and her fight against stage 4 colon cancer. She received the cancer diagnosis in 2018.
"She felt like this was something she needed to tell," Anderson said of his wife. "They followed us and we're very open. They didn't add to the story, they didn't embellish, they didn't tell us what to say. They let us live and that's what's very rare about our story. If you say I do, then you really do. And when you say for better or worse and in sickness and in health you better mean it."
Regarding Criscilla's current condition, Anderson said, "She's doing a lot better. She has two tumors in her lymph nodes and she is battling and doing great to be honest."
Anderson also further discussed the entertaining dynamic between himself and his wife.
"We're naturally funny because she's city and I'm country, that's funny as it is," Anderson said. "I don't do Starbucks, I'd rather get a gas station coffee for 79 cents. I'll drink out of the hydrant and they look at me like I have COVID if I drink out of the faucet. It's the dynamic of can we love each other even though we're not the same."
The exposure on Netflix could lead to expanded fan base for Anderson, whose show will be available to a worldwide audience.
"I am extremely optimistic about the potential," Anderson said. "In the last 90 days my patriotic song "Mr. Red, White, and Blue" has gone viral twice – once on Tik Tok and once on Facebook. Mr. Red, White, and Blue as of Aug. 26 is in the Top 40 of the country music charts, but there's no radio air play, so the timing of this is great. Netflix is excited about this because no one has ever told this story before. I had a buddy of mine who's an actor on a major network, he said when they were on the network they were popular, but once the show hit Netflix they were famous. They landed in Brazil and everybody knew his character and his catchphrases. They went to England, they knew them, they went to Canada, they knew them. It's different. Network TV is only stateside, Netflix is a global monster."
Anderson also reflected on his journey to this point in his career.
"There's so much potential when you honestly give yourself and your talent no boundaries," Anderson said. "When I was in Bangs I bought a guitar from a girl I was dating when I was attending Howard Payne. I literally went back to Bangs, got in our feed shed where we keep our chickens, and started putting guitar chords on the wall and started strumming until I got them down. And now I'm in Malibu, California with Jamie Foxx singing "Brown Eyed Girl" in Mark Burnett's house. You can't make this up."
"Country-ish" will be available to watch on Netflix as of Sept. 25. It is available for pre-order now so those interested can save it onto their account. The official trailer dropped Aug. 27 on Netflix.