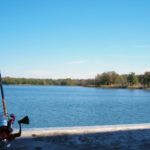 Brownwood
GOOD. Water clear; 87 degrees; 3.88 low. Largemouth bass are fair with deep diving crankbaits, jigs and Carolina rigged plastic worms in 15-25' near drop-offs and standing timber. White bass are good on slabs in the main lake near humps, drop-offs, and flats. Catfish have been good on prepared bait and live bait in 10-20'.
Cisco
FAIR. Water clear; 87 degrees; 4.91' low. Largemouth bass are fair among boulders, and just outside grassy coves on jigs, spinners, and jerkbait still later in the afternoon. Sunfish are good on cutworms under docks, piers, and shallows. Crappie are fair with jigs in the shade and under vegetation. Catfish have been fair on stinkbait, chicken livers, and cut shad.
Coleman
FAIR. Slightly stained. 82 degrees. 1.84' low. Hybrid stripers are good on rattle traps, and smaller spinners either see baitfish on boat equipment or surface activity. Largemouth bass are fair working a bit shallower than normal for this time of year. Try fishing some under docks. Crappie are fair on jigs hitting every cast on good spots in calmer cooler water. Catfish are fair with stinkbait and cut bait.
O.H. Ivie
GOOD. Water clear; 85 degrees; 11.66' low. Black bass remain good between 14-22 feet on steep drops and above piles with crankbaits, jigs, and plastic worms. Crappie are good on jigs working structure and shade. Catfish are good on stinkbait, live, and cut bait. White bass are fair even deeper below 22 feet.
Proctor
GOOD. Water clear; 89 degrees; 3.51 low. Largemouth bass are fair on Texas rigged worms, bladed spinners, and chatter baits in submerged timber, creek channels, and rocky shorelines. Hybrid stripers are good with live bait and jigging slabs in the main lake. Crappie are good with jigs and minnows in 14-28' in standing timber and brush piles. Catfish remain good on prepared bait, chicken liver, and cut bait