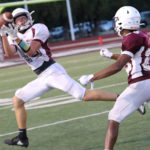 The Brownwood Lions' one and only dress rehearsal for the 2020 football season takes place at Gordon Wood Stadium Thursday evening as the Godley Wildcats visit in the lone preseason scrimmage.
Action begins at 5 p.m. with the freshmen and JV scrimmages taking place on opposite ends of the field. Then, at 6:30 p.m., the Brownwood and Godley varsity squads will square off against each other.
The varsity format will feature 10 plays each by the first-team offenses and defenses, then 10 plays apiece from the second-team offenses and defenses. Two live quarters will follow.
"We're going to try and simulate the half like it will be next Friday at Lampasas," said Lions third-year head coach Sammy Burnett. "We want to have everybody prepared, make sure we have all our communication down and all our equipment is working properly. It's just a dry run to get ready for Lampasas."
Godley is coming off an 8-3 season, including a 2-1 district mark, and returns 20 of 35 lettermen – including six offensive and six defensive starters. Head coach Curtis Lowery's squad is picked to finish second in District 5-4A Division II this season by Dave Campbell's Texas Football magazine, behind only Glen Rose.
"We've seen a little film on them but we don't prepare for a scrimmage, we've been working on Lampasas to be honest," Burnett said. "They're a 4-2-5 defense and every once in a while they get in an odd front. But going into the scrimmage we're going to do what we do offensively and try to execute our base plays and move the ball."
The Lions are looking for a more consistent offensive performance following last week's intrasquad scrimmage.
"We moved the ball on the ground well enough when we wanted to, but we were trying to spread the ball around and give kids opportunities," Burnett said after the scrimmage. "We had some kids that didn't know what they were doing at times which will kill you offensively. We had some busted routes and a couple of busted blocking assignments up front, but that's to be expected when you're splitting your offensive line that's used to playing together."
Among the position battles, Baylor Tidwell, Blaize Espinoza and Chance Jones are still vying for time at quarterback. Burnett hopes to make an announcement on who the starter will be prior to next week's season opener against Lampasas.
The trenches are where Brownwood's greatest strength lies offensively as Brad Robinson, Jimi Brown and Ethan Pesina return as starters, while Jared Northcutt and Logan Gillem are joining the fray in the front five.
Just as it did last year, the Lions defense stole the show in the intrasquad scrimmage. But assistant head coach David Jones, who oversees the defense, stated there are still plenty of position battles on that side of the ball as well.
"All four linebacker positions are up for grabs," Jones said.
Espinoza, Pesina, Dryden Anderson and Konlyn Anderson are the candidates at inside linebacker, while players vying for time outside include Hunter Day, Cade Jetton, Reece Bolton, Chance Jones and Noah Barron.
"We're ready for somebody to grab those spots," Jones said.
Senior returnees Kris Hobbs at end, Royshad Henderson at cornerback and Khyren Deal at safety are anchoring the defense.
"I couldn't think of better guys than Khyren, Royshad and Hobbs for our team to mirror because they're extremely passionate about playing hard and being physical," Jones said. "When our other guys see that it certainly helps our program overall."
Henderson, Deal, Hobbs and Robinson were also voted team captains earlier this week.
After the Lions were split in half last week due to the intrasquad scrimmage, the coaching staff is eager to put a complete unit on the field in their quest to determine the starting 11 on each side of the ball.
"As a coaching staff we're still evaluating kids and this gives us another opportunity to see some film and go into that Lampasas game feeling like we have everybody in the positions they need to be so we can be as successful as possible," Burnett said.
As for what Burnett will be keeping an eye on during the scrimmage, he said, "Number one, we want to be physical, we want to set the tone in that aspect. I also want to see execution and make sure our kids are doing what they've been asked to do, that they're disciplined, playing their positions as best as they can play, and are playing as a unit."