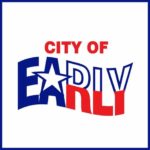 The Early City Council will hold a special called meeting at noon Friday, Aug. 14 for a public hearing regarding the 2020 tax rate for the City of Early. The second public hearing will be held at 6 p.m. Monday, Aug. 17.
The agenda for Friday's meeting is as follows:
A. Call to order, Invocation, Pledge of Allegiance
B. Citizen's comments.
C. PUBLIC HEARING – 2020 PROPOSED TAX RATE
D. Budget Workshop
E. Announcements
F. Adjourn