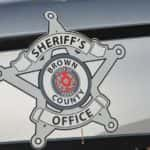 On Friday, Aug. 7 at around 3:40 a.m., Sgt. Taylor Fletcher, responded to a report of a burglary in progress on CR 551. The suspect was actively resistive and was arrested for 2nd Degree Felony Burglary of a Habitation. This was for unlawfully entering the house, taking items from the refrigerator, and committing a Class A Misdemeanor Assault Causes Bodily Injury. This was for the injuries sustained during an altercation with the resident. Also for Class A Misdemeanor Resist Arrest, Search, or Transport, and State Jail Felony Possession Controlled Substance, Penalty Group 1 under 1 gram.
On Saturday, Aug. 8, at approximately 12:44 p.m., Deputy Scotty Burke met with the complainant at the LEC. This was in reference to a fraud/scam report and investigation.
On Saturday, Aug. 8, Deputy Jose Rodriguez was waved down by a female subject on Limerick Dr. in Brownwood. She stated someone had stolen money from her vehicle. After further investigation, the female subject found her money in a tree next to her residence. A report was made.
On Sunday, Aug. 9 at approximately 1:16 p.m. Deputy Scotty Burke spoke with the complainant, by phone. This was in reference to a theft report and investigation.
On Sunday, Aug. 9 at about 2:02 p.m., Deputy Byron Langley arrived on CR 188 in Brownwood. This was in regards to illegal dumping. He observed a brown leather and wood couch on the side of the roadway.