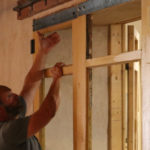 Seven months after Teddy's Brewhaus opened its doors at the former Weakley-Watson Hardware location at 102 Fisk Avenue, the COVID-19 epidemic struck and forced the business model to change drastically.
From carry-out only orders to an entirely new venture – producing hand sanitizer – Teddy's has managed as well as any business could during these unprecedented times, and even exceeded expectations in some aspects.
While the establishment has been closed, another opportunity presented itself – the chance to update, renovate and expand on the original vision, which will allow room for more customers when business returns to normal.
Jeff Tucker –– co-founder of Teddy's – recently shared details on some of the changes while taking a break from renovating the "old tin shop," which eventually became a warehouse for Weakley-Watson Hardware.
"When we opened up we were under a temporary CO until we figured out what we were going to do with this building," Tucker said. "We had originally planned on tearing this part of the building down but as we got more into the structure and dealing with the Texas Historic Commission we knew we had to save it. We've come in and done a lot of structural repairs to the building itself. We've kept it real industrial looking like it was, kept that aesthetic, and put our little character in it."
Fire sprinklers were also added along with electricity where needed to run lights, fans and televisions that were in the process of being installed. The Sinclair Stage is also located in the old tin shop, which will be the home of live musical performances in the future.
"We are just trying to make an outdoor area if people wanted to come," Tucker said. "A lot of our customers want to a have a cigar and a beer, or a cigar and wine. It gives an outdoor feel and goes out to the Biergarten as well. That'll have tables and chairs out in it and seat about 60. And a couple of pergolas we're converted from the old grain silos."
There is another major addition coming to the Biergarten as well.
"The last thing we're building outside is an in-house movie theater," Tucker said. "Every Friday and Saturday night we're just going to show a movie. If you want, come out back, pop up a lawn chair or sit out back on the grass and enjoy a movie or whatever we're eating that night."
To advance into the old tin shop from the area of the establishment that was originally open, one will now pass the through the 1881 doors that once faced Baker Street outside the harness shop, which were discovered within the building. Finding the doors and re-purposing them is one of various surprises that has resulted in the continuing evolution of Teddy's Brewhaus.
"This has been one of those projects where, when you do a historic renovation, you make your best set of plans," Tucker said. "Then you have to realize those plans have to be very fluid, and this has been a real fluid process. We could run into a particular wall, for example, that could completely change our architectural plan. We have a projection of what we want to do knowing it's always going to alter in places and change. With this historic renovation stuff, it takes time."
The unusual decision to produce hand sanitizer during the pandemic has afforded Teddy's the opportunity to stay afloat as a business when many others are experiencing extreme financial hardships.
"Our employees were wanting to work, some of them went to Howard Payne and they couldn't go to classes anymore," Tucker said. "They wanted to stay busy, it let us keep people working and even hire more people.
As for the sanitizer idea itself, Tucker said, "At that point nobody could find it, it was just gone. It was one of those things where we made lemonade out of lemons. Our CPA, Rebel Quillin and I had both read an article and I said, 'you know, our equipment can do that.' I'll be frank with you, the first 1,000 gallons we put out I was extremely embarrassed by, but what we also did with that is we started getting some rather large orders, and we partnered with a company here in Brown County that does large mixing, so we were able to parlay our equipment, our sanitized water, a variety of things. Then the second batch was better than the first, and the third was where we needed it. We got an FDA registered number and we're still selling it."
Teddy's has become famous for its sanitizer, as well as takeout pizza, while renovations continue prior to the complete re-opening.
"We didn't have to stay shut down, we chose not to re-open until we got things the way we wanted it," Tucker said. "I'm kind of glad it happened the way it has because we've gotten input from people when we originally opened. We were open about seven months and we knew there were things we would want to tweak.
"But it's cost us money, it's even cost us employees, but we have our staff back and we're ready to roll. Some have since graduated Brownwood High School and are off to college. For me, I haven't really let it effect our decisions. It's been more about, hey I want to get this to a point where we have a full CO, which we do now. Some of it's been watching the tea leaves unravel with the state. For example bars aren't allowed to be open right now so the TABC and I had a conversation about what we are, which is a restaurant with a tasting room. We work very closely with the beer guild and the wine guild because we also have a wine label coming out. That was another thing, we wanted to have our own wine label when we re-opened, so we thought let's just take some time and do construction, which kept everybody working, while doing curbside service the whole time. Now I think our customers have kind of gotten tired of pizza every night, but that's OK, too."
Tucker stated an announcement will be forthcoming in the not too distant future, perhaps next week, regarding the full re-opening of Teddy's Brewhaus. There will, however, be COVID guidelines in place.
"Another thing we've done is redesigned our point of sales system," Tucker said. "Because of COVID everything has to be spaced out a certain way. We've got a cleaning mechanism we have to do, we've got a different way we're going to deliver product to the table, and we're still tweaking that."
As far as when the renovations and upgrades will be complete at Teddy's, Tucker said, "I don't know that this will ever be done. There's more plans in the future, but what we're trying to do is get immediate things addressed. Even with what we're doing outside, we have a basketball goal to hang up, TVs to hang up, a movie theater to put in, we want that to be a unique area where people can just come to chill out."