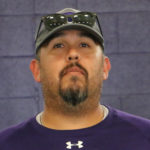 Daniel Price begins his first season as head coach of the Early Longhorns Monday morning as football returns following the coronavirus-imposed shutdown by the UIL.
The Longhorns, and other high school programs around the state, have been able to hold strength and conditioning workouts and sport specific practices since June 8, so Price and company won't be starting from scratch when they take the field at 7 a.m. Monday.
"The excitement level has been through the roof," Price said. "The first day we had a chance to do the summer strength and conditioning was June 8 and I believe we had 140 total athletes, boys and girls, show up that first day. You could tell from the start of the summer it was going to be a little bit different, they were a little more excited to be here, and about the idea of getting back to something that looked a little bit more normal to them.
"For us coaches it was the same way. That Sunday night before we started on June 8 I slept like it was a two-a-days morning the next morning. Just that excitement about getting started again made it really fun. Now that we're here at the start of the season, all the coaches and myself are excited about the progress we've made in the summer and we're ready to go and get back to some football. Hopefully we can avoid those big coronavirus spikes and we can play as normal."
Price admitted there will be some challenges to overcome due to the additional time off during the spring.
"There's a few things (the layoff) has done," Price said. "It limited our strength program, which I felt was moving in the right direction. We were doing a lot of great things and then all of the sudden you don't come back after spring break. Instead of having the normal month or two layoff in the summer you're looking at five for some of those kids.
"I missed out on opportunities for myself to implement some of the things I wanted to do, some of the character development, team building and team bonding I wanted to do after spring break. That puts us a little bit behind but I think we'll be OK since I do have a relationship with the kids since I've been here a while."
While Price isn't new to the Early staff, he is in a different position. However, the Longhorns will have a pair of new coaches on the sideline this season in Eric Davis and Brandon Fisk.
"We picked up Eric Davis and he'll coach wide receivers and be the head basketball coach. He's coming from Frisco," Price said. "Brandon Fisk is a Howard Payne graduate and went back to Wolfe City for a year. He's coming here from there, it's his second year and he'll be coaching the secondary and assisting in basketball and baseball."
The Longhorns will be seeking their first playoff appearance since 2008 when the regular season begins Friday, Aug. 28 at Bangs.
Heading into the first practice of the year, Price discussed the strengths and weaknesses for the Longhorns at this point.
"Our biggest strength is the amount of people we had in the summer compete in our strength and conditioning program that are sport specific," Price said. "That allowed us to recover some of that lost time in spring football. We're going to have some senior leadership on the defensive side of the ball that will pay some dividends for us.

"We're also going to be really young and unproven on offense. We graduated some seniors there and we're going to have sophomores that are going to have to step up and play some big roles there. That will be one of the challenges early, to get them to have some success and have that transition into some success for us in district."