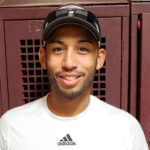 Editor's Note: This is the last of nine stories in a series highlighting the new members of the Brownwood coaching staff for the 2020-21 school year
Eddie Sena, one of the new coaches on the Brownwood Middle School staff, has experienced quite the journey en route to his new position.
A 2005 graduate of Stephenville High School, Sena has attended a trade school, served overseas in the military, graduated from a university, and began a teaching and coaching career in the six-man ranks.
"I played basketball, a little bit of football and ran cross country, but I wasn't an academic by any means," Sena said of his days at Stephenville High School. "I struggled in high school, so out of high school I went to a tech school, Westwood College of Technology and Aviation. In the middle of that I decided the military was a better option for me, so I went ahead and signed up and was sworn into the military in March 2006. Shortly thereafter I got sent to Iraq, 2008-09 is when that happened. From there, I realized there's a lot better things out there in the world than going to Iraq and school wasn't so bad, and I became an academic and was all about it. I ended up going to Tarleton State and through the teaching program I graduated in December 2016 with a history composite degree."
Upon graduation, Sena accepted a position at Three Way ISD – located between Stephenville and Glen Rose.
"Three Way is the only school I've been at," Sena said. "About a week before I graduated I went on an interview and got the job. One of those years I was deployed to Guantanamo Bay, Cuba so that was interesting. I came back and spent about three years there and built an athletic program from the ground up. We added a high school and I was varsity basketball coach there."
Sena stated his original intent was only to teach, but quickly caught the coaching bug.
"At first I was just focused on the academic side of it," Sena said. "But being that we are in the state of Texas I understand that you have to be multi-faceted and I do like teach, it's what I did in the military as well. I ended up getting a coaching job at Three Way and was just learning as I went. I ended up loving it. I decided to continue that and ended up here in Brownwood. Now I'm at the junior high level and I love it."
In terms of his coaching philosophy, Sena said, "It's a mix of a lot of things I've learned. One of the biggest things is communication and effort, just working hard. I feel like if you put in the effort and you communicate you don't have weaknesses, I call them opportunities. Everybody has an opportunity to be better at something, better than they were the day before. Combine that with positive attitude and the sky's the limit and you can do just about anything."
Regarding the impact he wishes to have on student-athletes, Sena said, "I just really hope to reach those that are maybe on the fringes, that maybe feel marginalized. Here at Brownwood we want to reach everybody so if I can make a difference in one student-athlete's life, to me that's a good day's work. One kid at a time, one team at a time, just keep going and learn as I go."