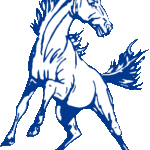 Brookesmith peewee football registration is now underway. Leagues include flag football for pre-K, kindergarten, first, and second graders, along with tackle football for third and fourth graders, as well as fifth and sixth graders.
The fee is $75 per child and players must attend Brookesmith ISD. A mandatory parent meeting will be held to discuss rules and regulations. Practices can begin as soon as Aug. 3.
For more information, contact Ashley Haws at 325-203-8846, Cody Loyd at 325-647-2627, or Rusty Rice at 325-642-7455.