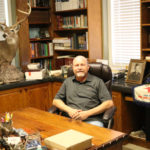 Tim Skaggs announced through Facebook Monday that after 14 years as Lead Pastor of Coggin Avenue Baptist Church, he has accepted the call to rejoin Central Church in Bryan/College Station – where he previously served for 22 years – as its Legacy Adult and Pastoral Care Minister.
Skaggs will preach his final two sermons in Brownwood Aug. 2 and Aug. 9, then report to Central Church on Sept. 13.
In a Wednesday afternoon interview, Skaggs spoke about the decision to leave Brownwood and reflected on his time here.
As for returning to Central Church in Bryan/College Station, Skaggs said, "For about a year I've had a strong feeling that God was getting me ready to move in my spirit. He knew I loved Brownwood and this church so much, the people and the staff, we worked so well together and it is such a great place to be. I knew He would have to work in my spirit where I would have to be open to the move, because I could stay in Brownwood until my dying day.
"I sensed He was getting ready to move me and the reason is because of my grandkids ultimately. They're 8, 6 and 4 years old with one on the way. I know as a grandparent the opportunity to impact your grandkids is about birth to age 10. If I stay here many more years I would lose that opportunity."
Skaggs' grandchildren live on the Bastrop side of Austin near the Bergstrom International Airport. Central Church will allow the Skaggs family to live outside the city limits, so they are looking for a home between Bryan-College Station and Caldwell to be even closer the grandchildren.
Skaggs added he was not actively seeking to leave Brownwood.
"I decided I was not going to get my resume out to 'help God out' in the process, so I knew the phone would have to ring," Skaggs said. "I got a call from my former church and they said they had a position that was not lead pastor, which was fine with me. It's the position of Legacy Adult and Pastoral Care Minister, which is for the seniors age 60 and up. It's a full-time job and about 700 people in the church are 60 and up."
Skaggs admitted he did not originally intend to leave Central Church for Coggin Avenue Baptist Church in 2006.
"I felt very strongly that God called me to come here," Skaggs said. "I shared that with the church before I came, I even told them in the interview I didn't want to come to Brownwood, I didn't really want to go anywhere, I really enjoyed Bryan/College Station. That's where we raised our kids, we'd been there 22 years and I loved Aggieland. Later on God gave me the strong desire just through seeking his will, visiting with the committee that was interviewing me and visiting Brownwood. I felt drawn by God, so that's the why I came."
Reflecting on the decision to make make the move to Brownwood, Skaggs said, "When I came here I had never been a lead pastor. I worked 22 years at Central Church in Bryan/College Station, the last 7 ½ years I was associate pastor, but most of that was as youth minister. I had a lot of pastoral experience but not as a lead pastor. I never had to lead staff meetings, never had to lead a church and have the buck stop on my desk. I was pretty anxious about that, but now that I look back on it I think maybe the Lord moved me here to grow me as much as hopefully to grow the church. Hopefully I've been a blessing to the church but I know the church has certainly be a blessing to me and my wife Jamie."
Skaggs noted several highlights during his tenure, particularly the addition of the Connection Center.
"The church was debt free but voted to build a building. I thought, 'great I'm going to be the pastor that gets us in debt,'" Skaggs said with a laugh. "We did in get debt as we built the building and had other improvements that cost $4.5 million. But a little over a year ago we had a note burning and we are now back to debt free. We paid that $4.5 million off and glory goes to God, but I'm thankful to our people for being very faithful in giving."
Skaggs also mentioned adding multiple staff members and becoming a sending church, as members of Coggin Avenue Baptist Church now take part in around six mission trips a year.
Perhaps most important to Skaggs, however, is the expanded locally ministry work the church is doing here in Brownwood.
"We've grown some in numbers with people but I think what I'm most excited to look back on is we also grew in ministry all around the world and also here in Brownwood," Skaggs said. "I once challenged our church many years ago that we want to make sure we're loving Brownwood well. I asked them to be so involved in our community here locally that if next week our church would seize to exist, would the town grieve because there was no Coggin Avenue Baptist Church? I think that's what matters."
"We developed a mission in Brownwood called 'Love Brownwood' where we have some staff members who oversee that ministry and do a great job. We also began a ministry called 'Celebrate Recovery' on Thursday nights and they have small group discipleship studies called 'Step Studies' throughout the week and we have a lot of people involved with that.
Skaggs himself has served as a mentor at the Ron Jackson State Juvenile Correctional Complex for the last eight years.
Asked what he will miss most about Brownwood, Skaggs replied, "The people, not just of the church, but in the town. We invested in not just the members of my church family, but we invested a lot in the community. My wife is the nurse at Howard Payne and has been for 11 years. I had a great relationship with pastors of all dominations, and just that family feel of Brownwood I'll miss deeply. And of course Brownwood Lions football. That goes without saying."