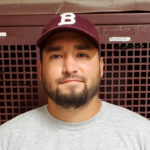 Editor's Note: This is the seventh in a series of nine stories highlighting the new members of the Brownwood coaching staff for the 2020-21 school year.
Remaining close to his family in Bangs has always been a top priority for Corey Martinez, who was able to do as he begins a new career as a coach/athletic trainer for Brownwood Middle School.
"Honestly, being close to family is what drives most of my decisions," Martinez said.
A 2013 graduate of Bangs High School and 2018 graduate of Howard Payne University, Martinez has spent the last year-plus working in the field of sports medicine.
"I played all the sports and that took a toll on my body so by the time I made it to college I called it quits," Martinez said. "But I wanted to stick around in sports so I went the route of sports medicine. I ended up going to school for sports medicine and got a degree in athletic training, as well as education, specifically for P.E."
Martinez previously worked at the Abilene Bone and Joint clinic and also helped out with athletics at Bangs High School prior to taking the position at BMS.
"I did some casting, bracing, splinting, that kind of stuff (in Abilene) as well as being athletic trainer for Bangs," Martinez said. "I contracted out with them so I made a little trip back home there. That's what I did for the last year until I got a chance to get an actual athletic training job here and get my feet wet with coaching."
Diving into the coaching world is what Martinez felt was the natural progression in his career journey, which will accompany his duties as middle school athletic trainer.
"I always thought if I were ever to get into coaching I would want it to be at this younger level," Martinez said. "I can really work with them on the fundamentals of the sports I fell in love with back when I was younger. It's a great spot to start as far as coaching goes for me."
Martinez will have his in hand in coaching all sports at the junior high level.
Regarding his coaching philosophy, Martinez said. "The main thing I look to provide for these kids is being consistent, being successful, and really wanting to show them it's not about the talent you're given it's about what you're able to do with it."