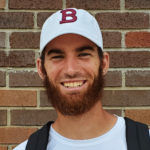 Editor's Note: This is the third in a series of stories highlighting the new members of the Brownwood coaching staff for the 2020-21 school year.
The Brownwood Lions football coaching staff has remained mostly intact coming off last year's 11-2 season, but there is one new addition.
Preston Rabb, former standout quarterback from Llano who later went on to play at West Texas A&M, is taking over the reins as quarterback coach for the 2020 campaign.
The job is Rabb's first in the coaching field.
"A lot of schools had job postings and I saw Brownwood and I knew the history," Rabb said. "It was a shot in the dark. I saw they were looking for a quarterback coach and that's what my background's in. I knew I would love to coach at a school that has such history and the talent that Brownwood has every single year. Luckily, Coach called me back."
Rabb, who stands 6-foot-7, ranks fourth in Llano school history in career passing yards with 2,614 coming during the 2009 and 2010 campaigns. Rabb was the starting quarterback for Llano in a 54-14 home loss to Brownwood in 2010.
"We had a good season my senior year, but we did play Brownwood which was No. 1 in the state and that was a rough game," Rabb said with a laugh. "I don't remember much except it was our homecoming and it didn't end well."
At West Texas A&M, Rabb passed for 3,080 yards with 20 touchdowns and 11 interceptions over three seasons.
Regarding his coaching philosophy, Rabb said, "For quarterbacks, they don't have to be the best athlete on the field but one thing I demand from my guys is great leadership. Every great quarterback ever has been some sort of excellent leader. Then there's decision making. I don't have to see my guy throw a ball 40 yards, if he can just complete that 5-yard pass all day we can live with that and be very successful doing that."
The Lions will have a new starting quarterback in 2020, but Rabb didn't tip his hand on if any player has the inside track.
"I haven't got to work with them too much but they've all got talent," Rabb said. "There will be a QB battle, so nobody right now has really jumped out in front yet. We're still out here in shorts and T-shirts and when we put pads on we'll find out who separates from who."
As for the impact Rabb hopes to have on student-athletes, he said, "I really want all the kids I interact with to grow up and be winners in life. I think football is probably the best sport I've ever been around that really emulates what it's like to be an adult. Once you get into a work environment you have bosses, just like you have a coach, and you have teammates. With football, you just mirror that so that way they have some sort of game plan for later in life."