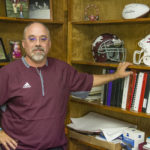 "We're all smiling now."
Those were the words of Brownwood athletic director and head football coach Sammy Burnett after the UIL unveiled its changes regarding sports for the 2020-21 school year due to the COVID-19 outbreak.
It's full steam ahead for athletics at Class 4A and smaller schools as preseason practices will begin on Monday, Aug. 3 as originally scheduled. Class 5A and 6A, meanwhile, are on a five-week delay and cannot begin practicing until Sept. 7.
The press release was issued just after 10 a.m. Tuesday after speculation that the UIL would reveal its decision Monday.
"As soon as it came out we were on the field doing our work and coaches were holding up their phones and asking me if I saw what was on Twitter" Burnett said. "I don't carry my phone out there but I hustled into the office to get the report and it was all good news, so thank the Lord.
"It's pretty simple for us. We're going to start on Aug. 3 as we planned because we had not shut down our strength and conditioning throughout the summer. Schools that have been shut down through July 20 will have to start on Aug. 10. The only difference in our football schedule is we'll lose a scrimmage."
For football, the Lions will lose their first scrimmage at Salado slated for Aug. 14, but will have one scrimmage at home against Godley on Aug. 20 before opening the season at No. 3 Lampasas on Aug. 27.
There will be one alteration to the Lions' regular season schedule as the current homecoming opponent on Sept. 25 is Class 5A Abilene Wylie. When 5A and 6A teams begin play Sept. 25, they will start with their original Week 1 foe, therefore the Lions are looking for a home opponent on that date.
"There's going to be some schools struggling and looking for some games because there are some 4A schools that play a few 5A and 6A schools in preseason," Burnett said.
Brownwood's volleyball, tennis and cross country programs will have to adjust their schedules as well due to the new UIL guidelines, along with 5A and 6A schools on a delay. The start of the volleyball regular season is now Aug. 10 and the Lady Lions will not compete in any tournaments. The start date for the tennis and cross country seasons is now Aug. 17.
"Volleyball will start (practicing) at the regular time," Burnett said. "We'll have to jockey some schedules with Coach (Allison) Smith because she had some tournaments she was going to that were big school tournaments, so we'll try to find  some games in there for her to complete her schedule. But all in all we couldn't ask for anything better."
Regarding basketball, no tournaments will be allowed during the 2020-21 school year according to the UIL, so the Lions and Lady Lion will not host the TexasBank Holiday Classic this season.
The UIL also announced student groups – band, cheerleaders, etc. – will be allowed to perform at sports events, and spectators can attend with a maximum capacity of 50% percent in the stands.
Brownwood ISD is currently working on a plan for ticket sales for the upcoming football and athletic seasons.