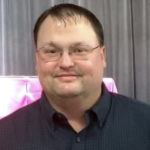 Derrick Stuckly, a 22-year veteran of community journalism, is joining Brownwood News to serve in the role of editor. Stuckly has lived in Brownwood since 2004, spending 16 years as the sports editor, then managing editor, of the Brownwood Bulletin.
"I'm very appreciative of the opportunity to join the team at Brownwood News," Stuckly said. "Over the last 16 years Brownwood has become home for me and I'm thankful that I get to continue my career here. I'm also eager to concentrate solely on local news and sports again. Brownwood News has always had a solid foundation of local coverage that I hope I'm able to enhance."
"We are so thrilled to welcome Derrick to our team," said Mitchell Dillard, President of Little Local, Inc. in making the announcement. "With his experience, credibility, and renowned sports coverage in Brown County and Central Texas, we plan to continue expanding our content and local coverage at a time when it is needed more than ever."
BrownwoodNews.com was purchased in 2019 by Brownwood-based company, Little Local, Inc. from Scott and Amanda Coers, who owned and operated the site for 2.5 years. The site was originally founded in 2009 by current BMDD Executive Director Ray Tipton and his wife Lisa.
Stuckly, who began his career in 1998 as a sports editor, has earned several awards for writing and photography from the West Texas Newspaper Association and the Texas Press Association. Stuckly was also a finalist for the Texas High School Coaches Association Putt Powell Sportswriter of the Year Award in 2012, won American Consolidated Media sports story of the year in 2011 and was named GateHouse Media's national sportswriter of the year in 2016.
"While this will be somewhat of a new experience for me, I intend to cover sports in much of the same manner I have during my time in Brownwood, with a few new wrinkles thrown in thanks to a digital-only platform," Stuckly said. "On the news side, there are so many interesting people and stories within Brownwood and Brown County. We'll do our very best to shine a brighter light on more of those aspects going forward, in addition to the coverage in which the readers have become accustomed."
Stuckly, 44, is native of Hubbard, Texas, graduated from the University of Texas in 1998 with a Bachelor of Journalism degree and has previously worked at the Brenham Banner-Press, Corsicana Daily Sun, and Brownwood Bulletin.