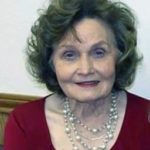 Novella Clydene Geer, age 87, of Bangs was born at home on January 29th, 1933. She passed away July 7th, 2020 at Senior Care of Brownwood.
Novella attended Bangs High School and graduated in 1951.   She was a lifetime member of Concord Baptist church.
Novella is survived by her two daughters Sylinda Meinzer and husband Wyman Meinzer of Benjamin, Texas, and Josie Pebsworth and husband Jay Pebsworth of Bangs, Texas; six grandchildren: Sara Spivey, Maggie Ferragamo, Hunter Blasingame, Jordan Blasingame, Pate Meinzer and Hunter Meinzer; seven great-grandchildren: Leisel Spivey, Brynnan Spivey, AJ Ferragamo, and Liam Ferragamo, Tristan Meinzer, Addi Meinzer, and Anni Meinzer; a sister-in-law, Joy Geer and countless precious nieces, nephews, and other family members.
She was preceded in death by her father, John Robert Geer and her mother Myrtle Clydene Norris Geer, her two sisters Cedonia Simons and Freddie Jay, and three brothers John O. Geer, Ira Carrol Geer, and Robert Norris Geer.
Funeral services will be held at 10:00 AM, Thursday, July 9, 2020 in the Heartland Funeral Home Chapel.  Burial will follow in the Bangs Cemetery.  The family will receive friends at the funeral home on Wednesday evening from 6:00 until 8:00.
Condolences, memories and tributes can be offered to the family online at heartlandfuneralhome.net
Heartland Funeral Home is in charge of arrangements.