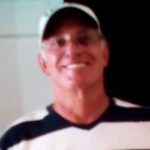 Paul was born a twin on August 3, 1946 in Mount Vernon, New York to Paul Nelson Kugle Sr. and Janet Pallett Kugle. He passed from this life Sunday evening June 28, 2020. He was a Christian and has found his victory in Jesus.
Paul grew up in Houston and Austin.  He graduated from Lake Travis High School and then graduated from Southwest Texas State University with a bachelor's degree in Agriculture/Science. Paul proudly served in the United States Air Force during the Vietnam War.  He married Linda Sue Garner on December 11, 1965 in Las Vegas, Nevada.  After the passing of Linda, Paul married Maude Schaffner on August 30, 2018 in Santa Anna.  Paul was a builder and contractor.  He could design and build just about anything.  He could also repair any appliance that needing fixing in your house.  Paul loved his work and took pride in all his labors.  He was a member of the Coleman Country Club, served on the Coleman County and City Council, Veterans of Foreign Wars, and was a member of the First United Methodist Church in Coleman. Paul loved life, his work, and most of all his family.  He had a passion for building things, golfing, and hunting. He was preceded in death by his parents; loving wife of 52 years, Linda; a grandson, David Cabral; and a great-granddaughter, Ashtyn Nicole Milan Kugle.He is survived by his wife Maude Schaffner Kugle of Coleman; brothers John (his twin) of Celeste, David and wife Joanne of Austin; sisters Judy Kugle of Nacogdoches, Carolynn Newman of San Antonio; daughter Cindy Cabral and husband Mike Squyers of Hutto.  He is also survived by Joanne Hansen Hartline who he raised as a daughter from age 8 and husband Rick of Ohio. A grandson who he adopted and raised as a son, Paul A. Kugle and wife Charlene of Abilene.  A nephew Bill Good of Coleman, who he raised as a son, and great granddaughter Linda Jean
He is also survived his stepson, David Schaffner and wife Cindy of Rowlett, and many grandchildren, great grandchildren, nieces, nephews, friends and neighbors.
Paul will be missed, but we rejoice knowing that he is with his Lord, and there is no more pain and sorrow.
In accordance to Paul's wishes, there will be no funeral service.
Remembrances, condolences, and tributes can be expressed to the family at www.livingmemorials.com.
Services are entrusted to Stevens Funeral Home, 400 W. Pecan Street, in Coleman.  Memorials are suggested in memory of Paul to St. Jude Children's Research Hospital at www.stjude.org or to the Shriners Hospital for Children at www.shrinershospitalsforchildren.org.